HOW WE ACHIEVED 9,500 WEBSITE VISITORS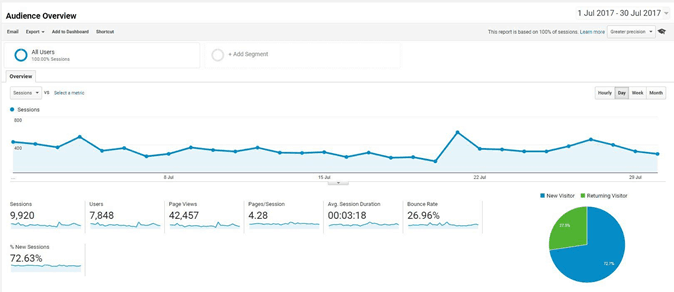 Personalized Search Consulting that delivers results
Doesn't it seem as though everyone is talking about marketing these days?
If it's not search marketing, content marketing, brand marketing, and social marketing dominating conversations in your industry, then it's more traditional channels of marketing, such as paper ads, television promos, boards, posters, hoardings, banners, PPC….
The list goes on seemingly forever. Everywhere you turn, it's all about marketing, marketing and more marketing. ….
It's enough to make you want to scream out
Hey! Enough Guys….Give me a break!
Especially if you've already tried the same old techniques and still haven't come up with the results you're looking for.
But could it be that there's something you're missing?
Could it be that among the same old, tired stories of Search Engine Optimization success and marketing miracles, there's an approach that's guaranteed to work?
If you've already tried every marketing technique in the book but don't have anything to show for it, then the answer is a resounding YES.
Yes, there is something missing.
Yes, there is an approach that works that you haven't tried yet.
Yes, we are going to tell you exactly what that is today.
Who are we?
We are Bitvero, and we've used the very same approach we're about to share with you to generate 9,500 unique monthly visitors which, in turn, resulted in scores of leads and eventual sales for one of our clients.
What's our secret?
Simple:
Patience.
Surprised? Expecting something more much extravagant and complex? Sorry to disappoint, but we really do mean it:
Patience is the key to success with your marketing
Let us explain:
Consider the brand or business you need to promote.
No doubt you've seen it so many times that you know it like the proverbial back of your hand, but when you look at it just the way we tell you to in a moment, you're guaranteed to look at that brand in a whole new light.
If you're already in the midst of marketing activities designed to amplify your SEO projects or you're planning to submit a proposal for the next winning bid, here's our advice:
STOP NOW
Before you go any further, there's some critical questions you need to ask yourself that may make you dramatically rethink the way you approach your marketing.
What are these important questions?
We'll get to that in a moment. Before we do, it's important to understand the simple, proven formula for generating a solid ROI (Return on Investment) from your marketing efforts:
+
Targeted Business Strategies
=
As you'll see above, generating ROI in any business depends on each element of the formula being in place.
Miss just one, and the results are either a seriously low ROI or, worse, none at all.
So it's important to get this right, which is no doubt why you've already invested serious time and effort in preparing your marketing materials.
Naturally, that's a good thing,
But have you realized….
…That even your best internet marketing strategies may fall if the business you are about to promote lacks targeted business strategies?
Here's something else you may not have realized:
If your business isn't designed to have a clear advantage over your competitors, no amount of marketing in the world will help you succeed.
Let's say, for example, that you're a high-end hotel with high-end prices above industry norm. Even the best marketing in the world can't make up for the fact that your prices are not competitive, so customers are still going to choose your hotel only as a last resort rather than their first choice.
Wait, we're not done yet!
Location plays a vital role too.
If the location of your hotel can be used as one of your Unique Selling Points (USPs) because it's in a prime location close to local tourist attractions or venues, then you might actually be able to justify those higher room rates and use that location to your advantage.
It's all about making sure that your business is well-equipped to justify your marketing.
So what actually is missing? What do you need to achieve that?
In this example, there's a number of important factors to consider:
Rate parity of the hotel,
Competitors,
Location of the hotel, considering proximity to tourist attractions, business facilities, and other key landmarks or venues.
Is the hotel an established brand or a new one?
Is the hotel part of a chain or single entity?
Special offers and promotions
Unique Selling Points of the hotel
What is the pull through rate?
Customer testimonials and reviews
Hotel assets (content, images, videos, infographis)
The above all play a vital role in determining the success of your hotel's marketing, but what would happen if any single one of these elements were missing?
….Would it affect your SEO?
In short, yes.
Every SEO strategy will eventually fail if even one basic business element or strategy missing.
So, as part of any SEO consultancy, it's important to address each of these elements, ensuring that each one is in place and that all questions are answered.
Do that, and you won't believe the difference it can make in guaranteeing that your next marketing campaign is a resounding success.
Below is a summary of all the primary points we've made so far:
Targeted business activities:
[vc_row][vc_column][icon_timeline][icon_timeline_sep time_sep_title="Targeted Business Activities" font_size="desktop:18px;" seperator_line_ht="desktop:25px;"][icon_timeline_item]Business Model USP's
[/icon_timeline_item][icon_timeline_item]Meaningful Assets (Content & Graphics)[/icon_timeline_item][icon_timeline_item]Offers[/icon_timeline_item][icon_timeline_item]Rate Parity
[/icon_timeline_item][icon_timeline_item]Products USP's
[/icon_timeline_item][icon_timeline_item]Geo Location
[/icon_timeline_item][/icon_timeline][/vc_column][/vc_row]
Business Model
Before undertaking any campaign, a good SEO specialist will naturally spend time understanding not only their client's business model, but also the models of that client's' nearby competitors.
This proves invaluable in gaining a clear understanding of the client's USPs, and also in identifying missing elements from the list we looked at earlier.
Meaningful assets
Look at assets such as the website, its content, images and social profiles, not from the perspective of the business itself nor even from that of an SEO specialist, but rather from the perspective of the website's visitors.
Ask yourself:
What initial reaction are those visitors going to have?
Does it provide a compelling reason to stick around?
Is there enough to convince a visitor to take action, whether that's purchasing a product, enquiring about a service, or even signing up for a newsletter?
Keep in mind that whilst a good design may attract visitors in the first place, it won't be enough to keep them around for long. Visitors will only stay and engage with your website if they will find something meaningful, even that's only a single captivating headline or an image.
Make no mistake about it, content is vitally important to the success of any website. By combining clear, compelling copy with captivating images and/or useful graphics, you develop an emotional connection with your audience that gets them invested in your message and eager to engage with you.
Offers
Special offers such as discounts, two-for-one deals, or package deals serve as a compelling pull-through and can play an enormous role in amplifying your marketing activities.
Customers love the idea that they're getting something for nothing, which is why even the biggest name retail stores, supermarkets and high street brands use special offers so predominantly in their own marketing efforts.
Ask yourself:
What special offers can I introduce in my business that will give customers a strong reason to click through to my website?
What lessons can I learn from the discounts offered by those big brand retailers and high street stores about how to implement special offers effectively?
Rate Parity
This one element alone can make or break your marketing campaign, so it's vital that you take it seriously.
As we discussed earlier – the success of your marketing efforts can depend enormously on the price of your products and services.
If they are noticeably different from those of your competitors, you better have a pretty convincing USP to justify the reason why. Otherwise, now is the perfect time to address how you can adjust prices to fit in with industry standards and thus make the most of your marketing.
Products USP,
We can't stress enough the importance of identifying your key USPs.
As yourself what the Unique Selling Points of your business are, and make a list of as many as you can think of.
Now is also the perfect time to ask yourself how you can make these USPs the focal point of your marketing.
GEO Location
Particularly important for hotels and other businesses that clients' needs to visit in order to take advantage of the services on offer.
Ask:
Is there anything about my location that could be an advantage in marketing?
Beautiful scenery?
Local attractions?
Famous landmarks?
Conference venues or nearby business districts?
How can you make your location work for you?
By the time you've gone through all of the above, there's one last question to ask yourself:
Am I really ready to embark on an SEO campaign or marketing strategy?
Hopefully, you'll hold off until you've asked yourself all the questions we've listed above and come up with detailed, well-researched answers that will help you and your SEO specialist make clear, informed decisions about the best way to proceed.
This whole process is exactly the one that we used to generate 9,500 monthly visitors for one of our clients, but of course…
There's a lot more to it than that.
Below, we explain what we did next: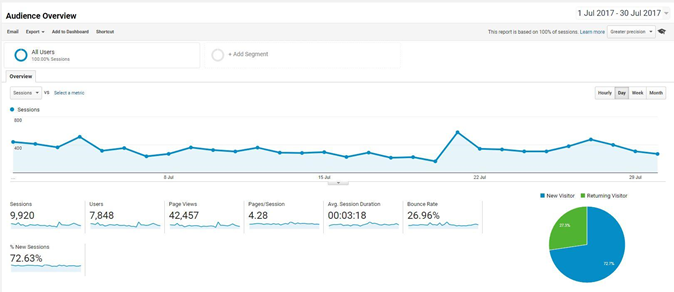 The snapshot is from the analytics report we generate each month for one of our clients. Though we've respected this customer's privacy by not revealing their name or web address, we can show you exactly how many visitors and page views we generated for them.
To do this, we started by going through all the steps listed above, asking key questions until we fully understand our client's' business, industry, and Unique Selling Points. Though we wouldn't recommend this for everyone, we do have to be honest and tell you that, in this particular example, we did get a little bit ahead by starting SEO work before targeted business strategies had been fully implemented. This was due mainly to time constraints, with one of the biggest challenges we had to meet being that of getting the project completed in time for our client's busiest and most profitable season so that they didn't lose out on revenues.
In most cases, we wouldn't risk such a move unless we had a clear understanding of exactly what was needed to produce results. With this client, we felt confident in going ahead because we'd asked all the questions we needed to ask and understood all too well what we had to do to make this work.
After all, as they say, understanding is half the battle.
Of course, it was important to discuss with our client the pros and cons of starting early so that they could make a fully informed decision about whether to proceed.
When they were happy that we'd given them all the information they needed, they agreed to begin implementing those targeted business strategies for SEO whilst we got to work on the SEO itself.
So, that's the background on this particular client, but it still doesn't answer the one question you came here to find out:
How did we achieved 9,500 website visitors?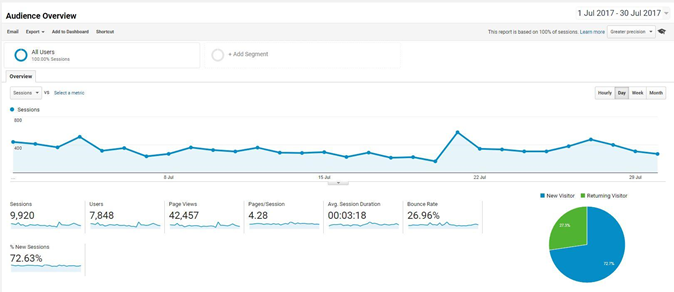 Up until this point, we knew we had everything in place to help our clients achieve results, but we still faced a challenge on how to ensure the best possible SERP (Search Engine ranking Positions) and the highest number of visitors.
It was a challenge we relished, and overcame using our proven tools, techniques and strategies in:
Search Engine Optimisation
Search Engine Marketing
Content process
Social Media Optimisation
Social Media Marketing
I would be lying if I told you that we have achieved 9,500 visitors for our client on the fly, or even by just creating and amplifying content☹
No, this was not the case!
To get these results, we strictly followed our Search Engine Optimization process that you can see here: >
We also paid close attention to successfully implementing our tried-and-tested Content Marketing and Optimisation process, which is outlined below:
Content writing & Optimization Process
We then followed our trusted methods and procedures for
Social Media Optimisation and Social Media Marketing
We strategically amplified our client's content to develop a loyal following, converting followers into website visitors and, ultimately, website visitors into satisfied customers.
Easy way of promotion
Audience depreciates self-promotion
Outreach is high
Impressions count is high
More than 80% viral posts are generic[/bsf-info-box][/vc_column_inner][/vc_row_inner][/vc_column][/vc_row]
Having learned all this, we thought others would benefit from our experience, which is why we've shared all of our insights with you.
If you've found this valuable, we'd appreciate it if you could take a moment to Like & Share this page….
Cheers, and All the best
Hyder Ali Khan
---