Why SEO is Optional but Highly Recommended in Website Design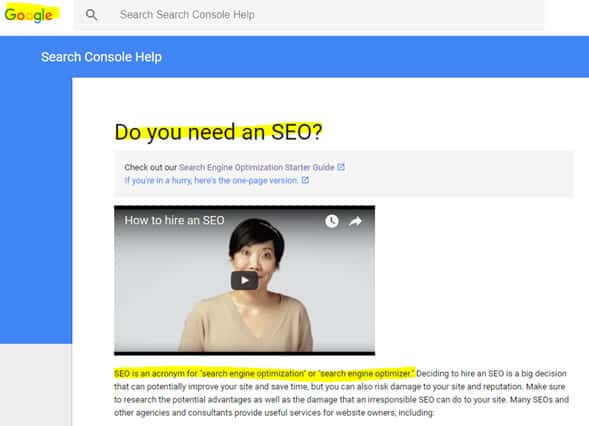 By now, you've likely at least heard of Search Engine Optimisation (SEO). Often referred to by some experts as on-page, or on-site, SEO, this one-off process is usually packed by website design companies as an optional, add-on service…
…But is SEO really all that optional?
☺
Before we answer that, there's one other very important question @Bitvero are asked regularly that we first need to address:
Do I need to pay for SEO on a monthly basis?
In a word, no.
Here's why:
We will request you to update your diaries from now on and mark
Search Engine Optimisation (SEO) itself a one-off process that can be carried out at any time, but is typically done during the initial website design -or redesign- stage.
Search Engine Marketing, or SEM, on the other hand, is a recurring process which does involve regular work to ensure your business is continually found by new customers searching for the services or products you provide.
So there you go, whilst you may want to invest in regular Search Engine Marketing, you don't have to actually pay for Search Engine Optimisation itself on a regular basis.
But is it worth paying for at all?
This is what Google, the undisputed kings of search themselves, have to say on the matter:
That's as word-perfect an explanation of SEO as anyone could hope to find, and certainly sums up the benefits of hiring a specialist SEO service, but it still doesn't answer the one question we laid out at the beginning of today's post, which is this:
Is SEO really an optional part of your website design?
Here's our answer:
SEO may be optional, but it is HIGHLY recommended for any website design.
Here's why:
Imagine investing all your hard-earned money on opening a new shop you stock your shelves with great products that people would love…
…If only they could find you.
Because whilst you've poured everything you have into this new shop, you've decided not to tell anybody about it nor given anyone a way to reach you.
You just wouldn't do it, would you?
Yet this is exactly what it's like to design a website without keeping SEO in mind!
Google says
"If you're thinking about hiring an SEO, the earlier the better. A great time to hire is when you're considering a site redesign, or planning to launch a new site"
Why SEO is So Important
As the name implies SEO is the process of optimizing each page of your website so that search bots from platforms like Google bot can actually read your page and index it…
….Then, when a potential customer uses Google to search for the services or products you sell, the search engine recognizes that those products and services can be found on your website, and presents it as an option to that customer.
Now, imagine the following….
You decide to ignore SEO, and as such, your website pages are designed in a way that search bots simply can't read them…
That means they'll never be able to index them and, as such, when a potential customer searches for a business like yours, it will be your competitors who show up in results instead of you.
Obviously, you don't need me to tell you what a disaster that could be for your business.
Let's see this in action:
This snip will show you how a Google search bot will see your page and how your visitor will see it
Google says
"Don't use images to display important names, content, or links. Our crawler doesn't recognize text contained in graphics. Use ALT attributes if the main content and keywords on your page can't be formatted in regular HTML."
If you want to see this at work on your own website, Google webmasters is the place to go.
What all of this means, is that when Google's search bot visits your site, they see it exactly the same way that any other visitor would.
Amazing, right?
Yes it is, and it's also vitally important when considering how SEO and website design work together.
After all, it's only due to the implementation of specific Search Engine Optimisation elements in each page of your website design that Google's search bots are able to identify your site as one that provides a good visitor experience.
Now, imagine that same website without SEO…
What if a search bot failed to view your website pages the same way that visitors would because it was missing a key element?
If it even indexed your site at all, it would be unlikely to recognize that your site delivers a positive user experience, and ultimately rank it lower than ones that do.
Can you afford that?
Of course you can't.
Design with visitors in mind
If you only take one thing away from our time together today, make it this:
To succeed with your website, it's vital that you don't simply design a website with search bots in mind, but that you make excellent visitor experiences your top priority.
Don't just take our word for it though, here's what Google says:
"Design your website primarily for your visitor"
What this means, is that whilst ensuring both design and accessibility are search-engine-friendly is important, the main focus of both your website design and content should be enabling visitors to get exactly what they want from you.
The Importance of Ethical SEO
Google also emphasize the importance of choosing the right SEO specialist to work with on your site:
"Deciding to hire an SEO is a big decision that can potentially improve your site and save time, but you can also risk damage to your site and reputation. Make sure to research the potential advantages as well as the damage that an irresponsible SEO can do to your site"
In other words, an irresponsible SEO may do more harm than good.
Not sure what constitutes a good SEO specialist? Follow these steps to recognise ethical SEO techniques and avoid irresponsible, unethical companies.
Our Verdict:
Though it may be presented as an optional extra, integrating ethical SEO into the website design process is essential for the success of your business.
SEO cost may vary, but to get the best value, we recommend walking away from those companies selling SEO and SEM together as a recurring service.
Why? We explain all in our guide to SEO Packages
If you've found the information in this post useful, we'd be grateful if you could take a moment to Like & Share it….
You can also subscribe to our Newsletter for a weekly dose of our latest expert advice and insights into #EMAIL MARKETING #SEO #SMO #PPC #SEM #CONTENT MARKETING
Before you go, why not follow us on your favourite social media?
---