Website Support Cost – What exactly should I pay?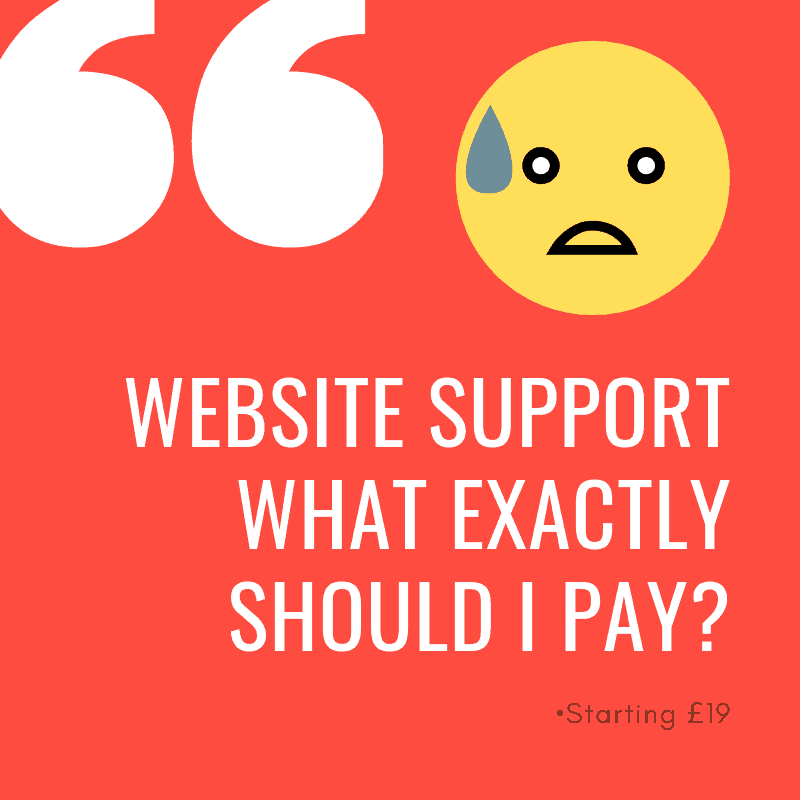 If you are looking for website support cost, you have come to the right place.
Here are the figures of website support for you upfront, if you are looking for numbers.
However, that may not prove sufficient, and I know that numbers alone will also not quench your thirst as well, as many questions are popping up in your mind.
And we are ready to answer each. Let's dive in.
WEBSITE SUPPORT COSTS

We are going to reveal some fascinating facts about website support plans and its process, explaining every detail to help you make informed decisions.
Many of them are
How you can hire a freelancer for website support, pros & cons
Key points to consider in a website support plan
Why DIY, pros & cons
Does location matters in website support?
Hours required in a support process?
Bifurcation of primary & secondary services in a website support package
And much more
Keep going if above sounds interesting.
If you are running a website in WordPress, you will be surprised to know that 33% of websites on the entire internet run WordPress. And that constitutes around 1.95 billion.
WordPress hosts a total of 50,000+ plugins and new ones are adding daily; the total number of downloads of these plugins reaches more than 125 billion.
A free CMS community backed platform, WordPress employees' just 395 personnel.
Now if these figures started tempting you, don't forget that large numbers attract a more substantial amount of vulnerabilities, a greater level of understanding, and a higher level of complexity.
And maintaining digital assets in the above scenario is challenging, which attracts recurring technical efforts, set aside quality time.
Here come the only options for 'Website Support & Maintenance'.

Let's discuss the pros and cons of each
DIY (website support Services)
Most of small to medium business keeps the ideology behind the website CMS working as install, set & forget. No matter they least realise as and when time passes, their digital assets continues to degrade becomes rusty and then open all doors to a whole lot of vulnerabilities, exiting and new both.
Set aside all the technical knowledge requires to maintain the website support regularly. Then spending the time in preserving digital assets, the thing we believe is already in scarcity with SME's when the considerable amount of their time is involved in business expansion.
The most challenging thing happens when we are supposed to maintain the regularity with DIY website support. However, DIY saves a whole lot of our hard earned money.
Does the question arise when is best to follow the DIY website support method?
And the secret lies with time management. As and well said, time is money and how nicely we are managing it counts a lot.
Keep DIY approach especially in doing website support till you can healthily maintain the same, check if you can justify your time spent with the website and supporting it and at the same time keeping pace with professional & personal life.
And the moment it goes beyond par, it is time to abandon the process and pass on your responsibilities.
To sum up the pros & cons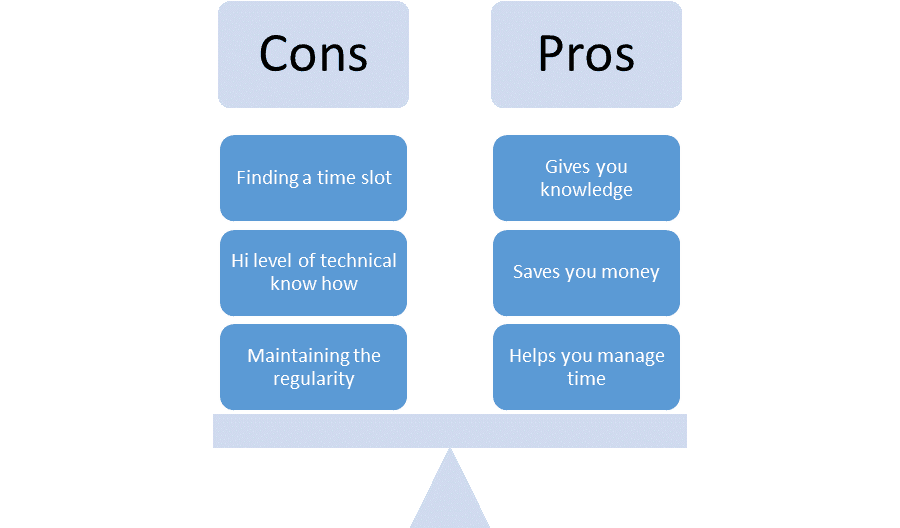 Take informed decisions; keep reading as we are about to reveal the hidden facts of the freelance industry actively involved in website support & development.
Hire a freelancer
The next right choice is to hire a freelance website support specialist, although the option also includes unique positive and negative aspects.
Google the search term 'Freelancer' a million results are waiting for you. However results on the first page will quench your thirst for the same. Few authority websites through which you can hire website support specialists are: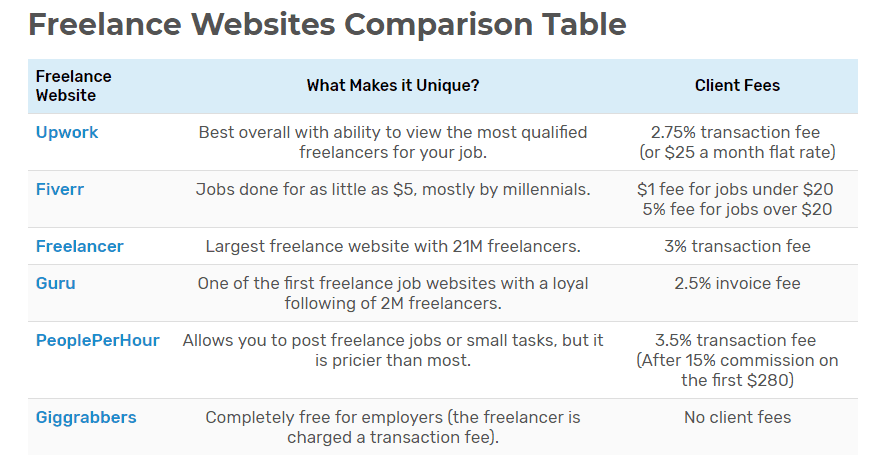 Image source: Fits small business
Let's discuss the plus and minus aspect of hiring a freelancer for your website support process.
Lack of Trust
Trust is the main factor and tops the list when it comes to supporting your website, the first thing you will pass on after hiring a freelancer for your website support service is sensitive credentials of your website, and they are:
FTP login & password to access the web server
CMS login & password to access to website backend
Other 3rd party logins if any
Working with a freelancer means you must have to pass on the sensitive information to the freelancer, even though he is unknown to you, and no matter you have hired him through a respectable known portal.
In worst case scenarios if something goes wrong, portals can only put restrictions or may completely ban the accused from the same profile. And no action beyond that.
Deceiving Information
The second aspect relates to the ambiguous information on portals. And you may end up dealing with a mediocre person who later results in a sour relationship. The level of efforts and energies are lost.
You can take our word we have seen this happen.
Uncertainty
A professional identity if not in a contract with the business leads to risk. Business continuity suffers if the freelancer is not sincere enough, freelancers work as per their schedule and in unusual situations behaves uncertainly.
However, not all of them are the same, you need to find the conscientious one, and a whole lot of challenges are involved.
Rates & Flexibility
An established and open fact when you deal with freelancers are, individual cost varies from £10 – £40 per hour for website support service, depending upon experience and the rating.
Not all of them are flexible in working.
Example profile from Upwork

Surprisingly freelance portals are not offering 'Website Support' as a filter or a category to perform a search. You may feel a bit cumbersome to find freelancers doing website support service.
How to discuss your website support with a freelancer?
Understanding freelancers and working with them is joyful only when you came across and hire the conscientious one. Although finding the star is tedious, remember the list of essential points before selection and during working.
Prepare a contract and mention the guidelines of working before online signing, you can use Adobe EchoSign. Feel free to use our template of 'Website Support & Maintenance Contract' a carefully drafted one for (For business houses)
Make sure to check the work of a freelancer to a root level. E.g. in case of website support,

The knowledge he possesses in WordPress.
Websites he is supporting currently.
Reviews & testimonials backed up with a company name or URL.
His rating & reviews in the freelance portal

Clear your expectation and his understanding as well.
Discuss every detail about your work procedure, process, complexity, response time, hours flushed, what is covered etc. see the full list below.
What is the cover in Monthly Website Support (Text & Images updates, Existing products & page updates, blog Update)?
Do you cover the creation of New website pages if the Client agrees to provide text and images?
Will you deal with plugins & CMS Upgrades?
Are you a Level 1, 2 or 3 Designer or Developer?
Hours flushed each month?
What about website Monitoring (24/7)?
What is your Communication Response Time?
Can you do new plugin installations & updates?
How many hours do you require for your website support process?
Answer to the question is critical and helps you in cost savings. A small website with 10-20 pages requires fewer efforts in a support process than the one with 50-100 pages.
A small website may attract the support of just one or two hours each month, whereas a larger one will end up consuming several hours in any given month.
Here is a chart for your reference
| | | | | | |
| --- | --- | --- | --- | --- | --- |
| I Am…. | Business Starter | A Small Website | E-Commerce Portal | Corporate website | Business House |
| Monthly Hours | 1 Hour | 2 Hours | 3 Hours | 6 Hours | 13 Hours |
Till now, we have covered the below topics:
DIY
Freelancer

Finding the freelancer
How to discuss your website support
Finalising the website support cost with him
Let's complete the last one, 'Contract with a company.'
Google the keyword 'Website support packages the UK', and you will find many other companies in the UK offering website support plans starting from £80 per month. However 'Website Support Plans' of Bitvero starts with £19
Companies are legal identities, and in the least cases, they work ambiguously. But that highly depends upon the location where it physically exists and who you can trust.
You can check facts with a little research. E.g. you can confirm the existence of the company by checking their domain age. Who.is will ensure you the required info.
You can search for reviews using operators like reviews "yoursite.com."
Try to find the ambiguity in the services they are offering.
Download Contract Template (For Website Support Companies)
If you are a Website support company, feel free to use our 'Website Support & Maintenance Contract template, which we have carefully drafted.
Finally,
The question comes with the credibility of their rates along with packages they are offering for website support.
Companies provide a plethora of services they offer in packages and interestingly you may not observe them as secondary or tertiary!
The primary criteria's of website support, which you may not find easily are:
Monthly hours they provide
Rates they offer
Contractual service or SLA (service level agreement)
Hours flushed each month
Website monitoring
Companies are giving Website hosting & Support both in a single website support package.
Response time
Will they allow the creation of new digital assets? E.g. a new page?
Each of the given element is critical whilst discussing website support.
Sometimes you may observe the following points
Either the rates are higher or hours provided are lower
Prices are lower; website support hours are not available
Monthly hours are suitable; rates are very high
Everything is ok; response time is 48 hours? Which is not workable. Isn't it
I am happy with the offering, however reluctant with a 12 months agreement upfront for website support; perhaps I don't know them?
Take extreme caution before signing a recurring contract.
We have equipped you with all the required information, and that will help you to decide which way to go.
Does location matters in website support?
The answer is no, although you need to make sure the reputation of the company as a whole or their website support process should fall between fair to excellent category, presence in your country certainly increases the confidence and trust,
A little research, as suggested above, will ascertain history.
However, make sure to check their process and criteria of website support and try to find a close match or compare like for likes to check with the information we have provided.
You may observe if the basis of the given information is on Gnostics or facts.
Website Hosting
Companies offer website support and hosting as a package deal; you may find it with a higher cost. And that's quite obvious, but make sure it shouldn't be too high.
Website hosting is one of the critical aspects and countable under digital asset management.
It's preferable to consider Managed Web Hosting & Website Support under one umbrella, although not necessary.
Wrap Up
Finalising website support is like a long term partnership, take informed decisions and chose your partner wisely, the one ready to go the extra mile, not just once or twice, every time.
The points we have discussed above are all the key points based on our experience of a website support process.
The company extends its services not only in support & maintenance but actively engaged in the creation, management and amplification of digital assets can be your ideal choice.
The intrinsic value related to digital assets that the company keeps may help you at some point in the longer run.

Offers in Website support
You may rarely find money back or try before you buy offers in website support, however, if you may find one. You can consider trying if all the criteria above's are matching.
Bitvero
Bitvero is a digital asset management company ascertain customer satisfaction, provides quality support & maintenance of digital assets.
Providing website support with a
Money back criteria
Starting £19 with an hour of support
30 Minutes response time
Pay as you go
A dedicated manager & Level 3 developer
And much more. You can check all of our Website Support Packages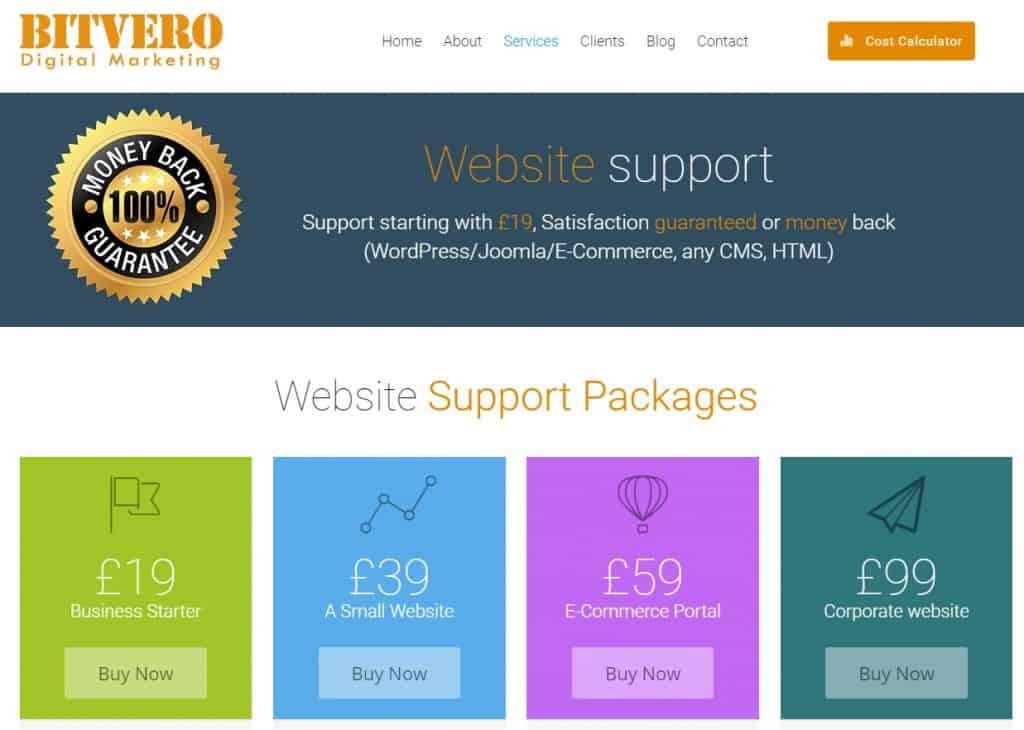 If you are looking for a website redesign, you should seriously consider after July 2018 update from Google, and why 95% of website are suffering speed score.
Check your website speed in mobile devices no matter you have recently updated.
Alternatively, calculate the website design cost and order online now.
You might have come across the term
I hope you enjoyed reading; I will look forward to your comments.
Take care & keep smiling.
Hyder @Bitvero Digital Marketing
---