Can AI Content Rank on Google?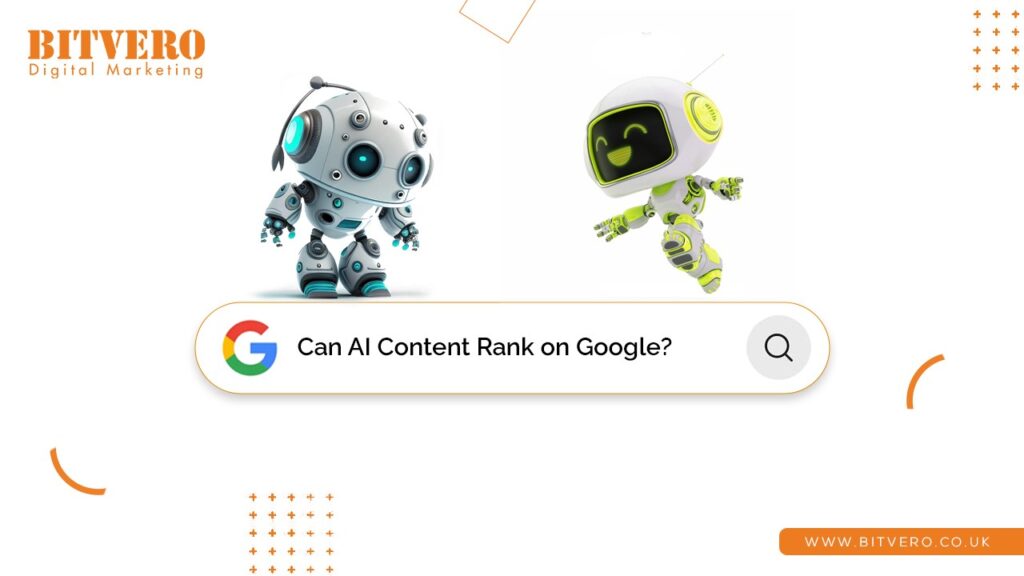 Yes, the content generated through AI can rank on Google but with some conditions and limitations.
In early 2023, Google issued long guidelines to give directions regarding AI content.
In these directions, Google clearly mentioned that the "Appropriate use of AI or automation is not against our guidelines."
By the term "Appropriate content", Google meant that the AI-generated content must provide value to the users instead of primarily aiming to achieve higher search rankings.
It simply means you must not use automatically generated content to manipulate keyword rankings to win the SEO game. Instead, you must focus on making it high-quality and helpful for the users.
Let's find out which kind of content may or may not rank according to Google.
Which type of content may rank on Google?
As per the issued guidelines, the content may rank if it-
offers original information, research, reporting, or analysis,
gives a complete, in-depth or comprehensive description of the subject,
contains some insightful analysis or interesting information that is beyond the obvious,
includes a main heading or page title providing a descriptive, helpful summary of the content,
avoids an exaggerating main heading or page title,
is free from spelling errors,
appears sloppy or produced hastily,
offers a great page experience,
possesses EEAT qualities.
When it is crucial for a piece of content to fulfil all the requirements mentioned above, demonstrating EEAT qualities remains the most important.
Google says its raking system is designed to prioritise the content possessing EEAT qualities.
If you have no idea what it is all about, our previous article on Google's EEAT qualities will help you know.
Which type of AI Content may not rank on Google?
Google guidelines provide some circumstances in which the content may have negative consequences. That is why you must avoid the following things when producing content using an AI content generator.
Creating content with the primary intent of attracting visitors from search engines.
Producing a tonne of content on various topics by assuming that at least one of them will achieve a higher ranking.
Merely summarising others' opinions without making your contribution or adding any extra value to them.
Writing about trendy topics just for the sake of attracting users' attention rather than focusing on your audience's interests.
Providing content that leaves readers needing to search elsewhere for more reliable information.
Highly relying on AI tools to generate content on innumerable topics.
Setting a specific word count believing that Google prefers longer content.
Choosing a niche topic area without possessing genuine expertise solely for bringing web traffic.
Why does Google not ban AI Content?
Google recognises the importance of new technologies to empower creativity.
Google accepts that using automation in generating content may assist people in several ways.
That is why it doesn't suppress a piece of content based on being produced with the help of AI.
However, it must be noted that when Google does not penalise such content, it does not mean you should generate 100% of it through AI.
AI-generated content lacks EEAT qualities (which Google gives preference) and sometimes even contains wrong information.
Also, Google says, "Using AI doesn't give content any special gains. It's just content. If it is useful, helpful, original, and satisfies aspects of E-E-A-T, it might do well in Search. If it doesn't, it might not."
So, should you really consider AI content, according to Bitvero?
Bitvero suggests that completely relying on AI to create content is not right, as it sometimes hallucinates.  In several instances, ai content generators like ChatGPT or Google Bard have provided inaccurate information.
Thus, using AI as an assisting tool to enhance the effectiveness of content creation, rather than substituting human efforts entirely, is a wise approach.
Furthermore, consulting digital marketing experts to improve your Google search rankings is highly recommended.
If you seek an SEO expert in London, our search engine optimisation consultant can help you right with that!
Call us at 020 374 52786 or visit us at 71-75 Shelton Street, Covent Garden, London WC2H 9JQ.
---