Why your website project continues to fail without compelling content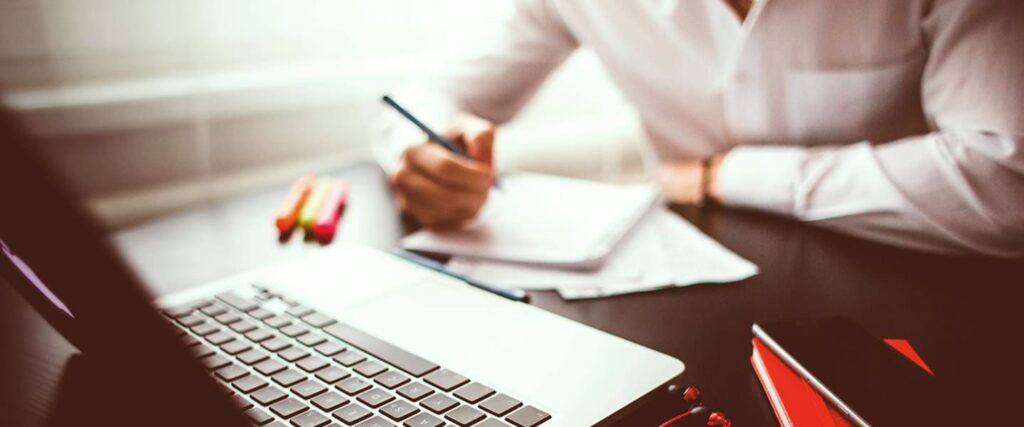 Can't decide whether or not to hire a content writer? Still not sure why you actually need website content in the first place? Here, @Bitvero explain everything you need to know about this critical component of your website's success.
Take just a few minutes to research why your website is producing the results you need and it won't take long before the hot topic of website content surfaces.

Yet as much as the experts are quick to tell you what a miracle cure content can be for a failing website, their advice only seems to raise more questions than it answers:
Can I produce content myself or am I better off hiring a dedicated content writer?
If I hire a writer, how much am I supposed to pay them?
If I pay them, how can I be sure I'm getting a good return on my investment?
If I decide to go it alone, what happens when I just don't have the time nor the inspiration to do so?
@Bitvero, we've heard these, and many more similar questions from our clients time and time again, which is why we put together this comprehensive guide to creating captivating copy that turns your failing website project into a rousing success.
First of all, however, a disclaimer:
This isn't about Content Marketing
Sure, content marketing is important, but as you'll see from taking even a casual look through top-ranking search results, that term typically refers to the strategies you use to create, distribute, and achieve results from, a diverse range of content.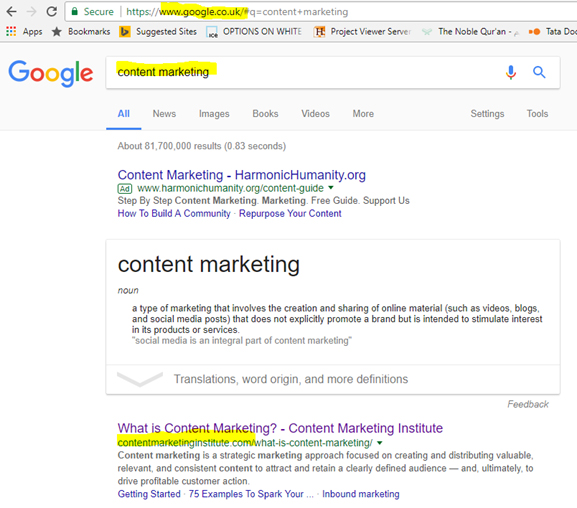 So what is this about?
Today, we'll be talking specifically about content writing and creation for your website, answering all your related questions about how and why to do it effectively.
Why?
Because whilst "content marketing" generates over 10K monthly search results, all of the top-ranked websites that term brings up on search engines like Google don't often disclose a valuable secret:
That even with the best content marketing strategy in the world, you won't get very far unless the content you create is of the very best quality.
That's where we come in.

Let's talk about website content creation
By now, you don't need us to tell you about the potential power of your website.
Representing your brand's entire identity, a good website can empower your business to generate leads and make sales even whilst you sleep.
Yet as a certain superhero might tell you, with great power comes great responsibility.
In this case, you have a responsibility to make your identity shine online, attracting customers from far and wide and turning curious visitors into loyal, repeat customers.
How do you just do that?
If you hadn't guessed it by now, let us tell you:
With captivating website content.
Basically, it all boils down to this:
Website content creation is the key to a successful & high traffic website
Trust us, if your website content isn't well-written, compelling and designed to add value to the lives of your readers, it's going to render your Search Engine Optimisation (SEO) and marketing efforts useless, ultimately pushing you further down the search results and making it much harder for your potential customers to find you.
Think of it like a movie.
That big blockbuster you saw last week could have the best-looking scenes, the most explosive special effects, and the biggest Hollywood names in the world, but if the script is poor, let's be honest: You're not going to enjoy it the same way.
Not convinced?
Think about your favorite movies:
Isn't it the dialogue, the words, the writing, that makes those scenes so memorable?
Why is that?
Simple:
Because good writing, combined with great-looking scenes, produces a much more compelling finished product than those scenes would alone.
The same goes for your website:
You could have the best looking design in the world, but without fresh, meaningful, well-written content, that website is doomed to failure.
But surely content can't make that much of a difference, can it?
Of course it can.
Look:
When people hit the search engines, they don't search for great design, they search for fresh, relevant information, compelling copy backed by facts.
Because that's what people are searching for, that's what search engines aim to provide them with.
So, when people are searching for products and services like yours, you need to give those people (and in turn, search engines) exactly what they want.
So far, so good. We're all on board with the idea that website content is important, but what's the best way to create it.
For the most part, you've got two basic choices:
Hire a content writer
Write your own content.
As with all things in life, each option has its own pros and cons. We've outlined the major ones in the table below: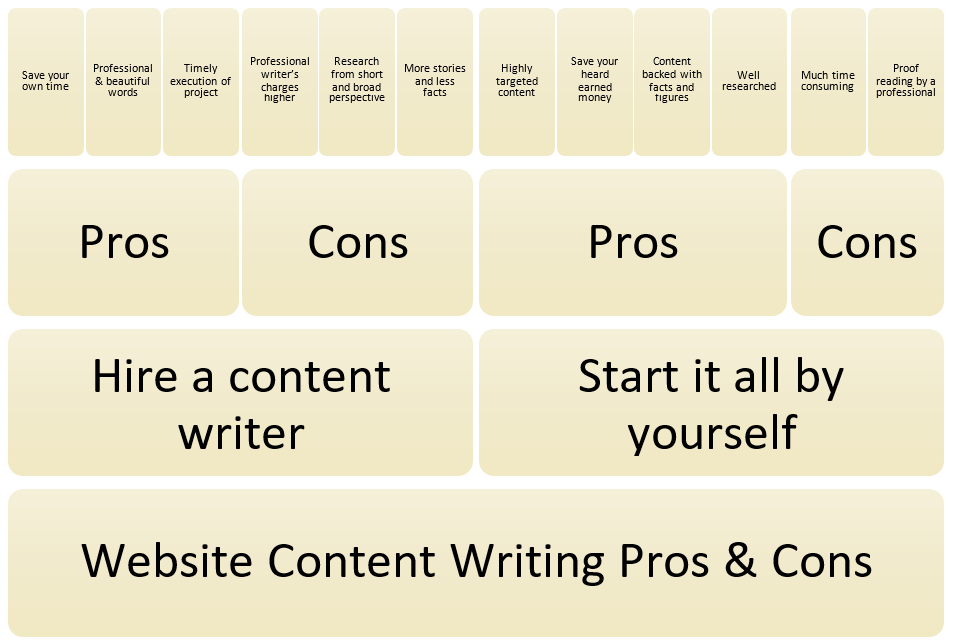 Gone through the table above and still not sure which is the best route for you?
Don't worry, you won't be the first one.
Content writing can be a complex process, and deciding which route to take is only the first step.
Sure, you could negate the whole process by simply outsourcing to a writer and wiping your hands of the whole thing, but in our experience, that rarely works out well.
So what really is your best option?
@Bitvero, we believe that it all comes down to planning.
Look at all the tasks involved in creating content for your website and divide them into two distinct categories:
Those tasks you can do best
Those your content writer can do best.
If you ask us, we recommend that at the very least you start writing your own website content.
Why?
Because nobody understands your business and your customers better than you do and, as the following chart explains, you may produce better results: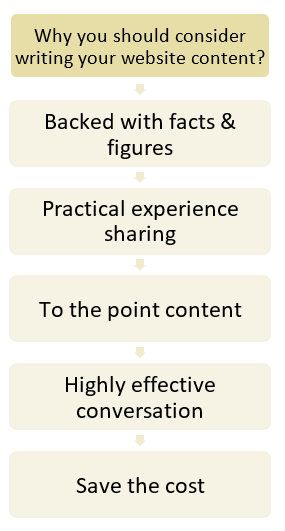 Should I Hire a Content Writer Instead?
If you simply don't have the time nor creative energy to invest in creating your own content, working with a professional content writer can be a solid alternative.
Before you set them to work, however, take some time to discuss your project with them and ensure they have a solid understanding of:
Your goals,
Your professional standards
Your facts and figures
Details about your business
Your Unique Selling Points
Your Methodology,
Your ideology,
Your Beliefs
What your competitors are doing
Check each piece of content your writer creates for you against the nine criteria above – ensuring they're delivering great copy that speaks volumes about your business.
Doing so is vital, and even if it takes a good few hours working with your content writer to check, recheck, and revise content to meet that criteria, the long-term benefits are going to be worth it.
The best way we can explain this further is dig deep into our bag of tricks and provide you with a complete outline of how the website content writing and content Optimisation process actually works.
Before we do that, however, there's one critical question we need to answer:
How is writing website content different from writing and researching generic content?
Ultimately, the answer to this comes down to several key factors, as illustrated below: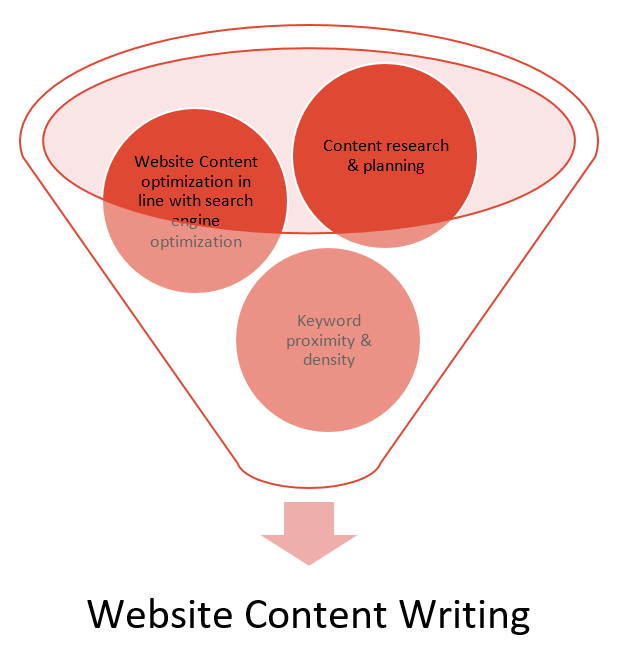 Those important details notwithstanding, let's next answer another crucial question:
How do you write compelling content for your website?
Here, we've summarized the entire website content writing process for you into one clear, easy-to-follow map.
How you use and maintain your keywords proximity and density?
Content writing & Optimisation Process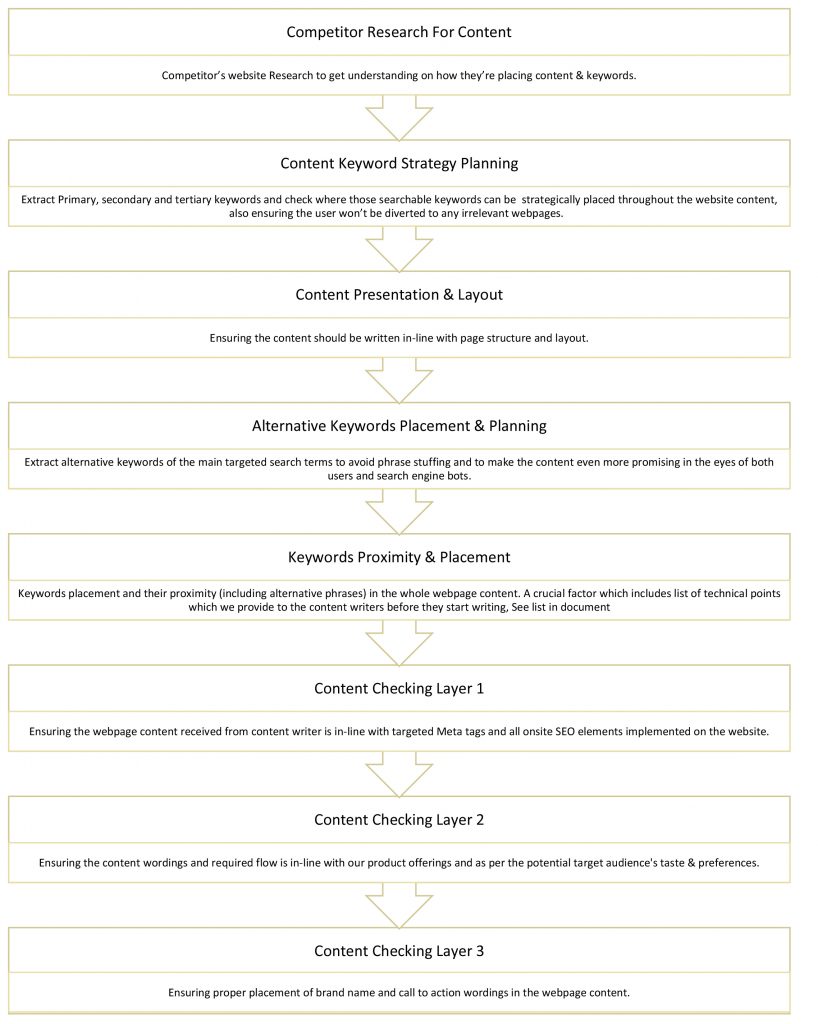 You can also subscribe to our Newsletter for a weekly dose of our latest insights into #EMAILMARKETING #SEO #SMO #PPC #SEM #CONTENT MARKETING
---