3 Major ingredients of content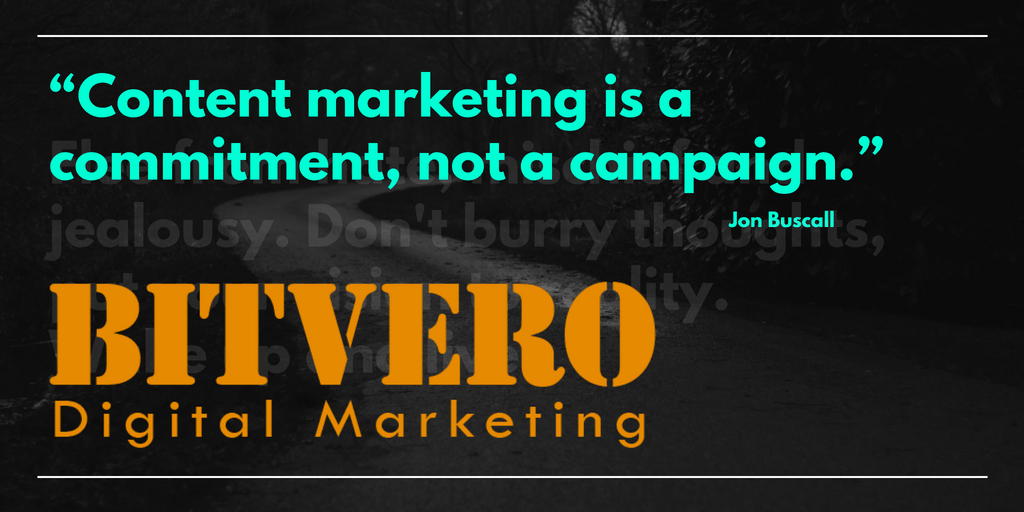 Content is King! OK, so it's not the first time you've heard this. Time and time again, you've come across countless marketing blogs who all say mostly the same thing:
That creating fresh, unique, and compelling content are vital to creating a robust website that works.
So far, you agree, but there's just one major problem:
Despite everyone telling how important good content is, time to time industry leaders updates us regularly how actually to create it.
And we love the way @jeffbullas has suggested in 7 simple steps to create epic content
@jeffbullas
Preparation
The groundwork for an epic post needs to be laid over the course of many days, even weeks. To prepare for the ideation process,
Before we go further and discuss the vital ingredients, we should first ponder for whom we are creating content?
Primarily, it's for two key audiences:
Human audiences
Search engine bots
To produce the best results, focus on the human audiences and if you've done it correctly- the search engine bots will take care of themselves, taking note that your website provides fresh and useful content relevant to the search for keywords and serving them up to your audiences.
Search engines love well-written, concise, and compelling content presented with striking, relevant imagery and associated media.
Give visitors the information they're looking for
and provide high-quality content on your pages, especially your homepage. If your pages contain useful information, their content will attract many visitors and entice webmasters to link to your site. In creating a helpful, information-rich site, write pages that clearly and accurately describe your topic. Think about the words users would type to find your pages and include those words on your site
See what Google has to say for the human audience
Give the search engines what they love and they, in turn, will give you what you like:
More visitors.
Of course, that's all well and good, but it does beg another, fundamental question
How more visitors?
Answer lies in the fact that visitors remember content best presented in any form, be it an intelligent speaker speaking in public, a movie scene, and your favourite song lyrics, a novel you hook upon and top of all the content presented via digital media in the form of images, videos, audios, blogs, E-books, where it is quite easy to attach your valuable emotions, mention comments, sharing information on your fingertips, this on the other hand provides a greater responsibility to each one of us in this well connected world, the obligation to genuinely care for each other and make the right use of technology,
Following above this is now quite clear how things are revolving in and around content, and indeed we say 'meaningful content.'
It makes sense to the person who is going through your content and if you are lucky enough and your visitors will start mentioning you in their digital material because they find your content power packed with exactly what they were searching.
They feel pride in saying you, and in digital terms, we call this a link back which is of great importance not only for you but certainly for search engines as well, why?
Google consider back-links as votes
Google Says:
Make sure that other sites link to yours
Links help our crawlers find your place and can give your site greater visibility in our search results. When returning results for a search, Google uses sophisticated text-matching techniques to display pages that are both important and relevant to each search. Google interprets a link from page A to page B as a vote by page A for page B. Votes cast by pages that are themselves "important" weigh more heavily and help to make other pages "important."
Because search engines consider the link back or 'Back-link' as votes coming from one website to another, Google better explains this as:
Now one more question arises here
What if you can purchase or exchange links?
Again answer lies in the fact if you think advanced search engines like Google is unable to determine the difference between 'Natural & Un-natural Links,' think again?
Where Google confirms:
Google Says:
Keep in mind that our algorithms can distinguish natural links from unnatural links. Natural links to your site develop as part of the dynamic nature of the web when other sites find your content valuable and think it would be helpful for their visitors. Unnatural links to your site are placed there specifically to make your site look more popular to search engines. Some of these types of links (such as link schemes and doorway pages)
We now understand the importance of content and its relevance to search engines, perhaps making the information in the form of material which is compelling to your visitors is quite a challenge? Isn't it
What exactly is compelling content?
And how do I make sure I'm creating it correctly?
In a nutshell, compelling content is what it says on the label:
Compel your readers to keep reading, even after they've quickly scanned through it.
To do that, readers need a reason to become emotionally invested in what you have to say and to create that emotional investment, your website content needs several essential ingredients:
3 primary ingredients of content
If you want to write content for your website that converts visitors into customers or earns you a click through then you need to work on three primary ingredients
Content Research
Content planning
Content Strategy
This will help you to create winning content that hooks your readers and attract search engines bots, ultimately improving your ranking.
As part of this process, you should:
Content Research
Finding your potential visitor perspective is the sole purpose of researching content, we can assure you that this research will give you enough potential to move forward in your very next step which is content planning,
You can use tools like Buzzsumo and ahref, and these tools will significantly help you in researching your niches in which you will find out which content is trending and which one gets most shares & likes in your segment,
you can finally go through that content and figure out the reason for trending, and why visitors love it, at the same time you can see a gap where you can intervene and write something similar or even better,
And indeed, this research will give you enough backup as well to come up with your strategy in tailoring your writing strategically & effectively
I would undoubtedly quote an example of Red-bull from Moz blog post
Moz:
a company who create content based on what their consumers love, not what they sell (i.e., Red Bull sell soft drinks, but create content about extreme sports because that's the sort of material their audience love to consume)
Now to sum up,
Check what your competitors are writing by using relevant tools like buzzsumo & ahref
Visualise your readers
Find visitor perspective
Go through the content with the highest number of social shares & likes,
Find the niche which will add value to your content
Make a To-Do list, don't forget to write the tips/links/headings/quotes/reference/examples during your research
And on top of all take a nap, keep patience and get going J
Let's see the next step,
Content Planning
The significant part of this step includes
When to publish
How to publish
Where to publish
Many of us start creating, writing and publishing content in ad-hoc manner, well that's not bad if you are doing it consistently, and perhaps I am pretty sure most of us just can't keep pace due to the busy schedule of our daily lives but the good news is you have started and finding that small spark is essential to get the ball rolling.
However with little extra effort, you can deliver the same content in the much better way, and the extra effort is a little planning with your valuable content, but that's worth after all you are investing your invaluable time & effort,
When to publish
One way is to distribute ad-hoc and the other mode with a little planning and if you streamline your content by setting a calendar of a week or month or year will undoubtedly help,
You can use the free tools like Google Docs, WordPress Editorial Calendar, and Hubspot Editorial Calendar
Many other paid content calendar tools are also available
How to publish?
If you have just started blogging, consider publishing content on your blog under your name to create authorship first,
And the best way is to connect your Microsoft word to your blog post, open MS Word > New > search blog post and download the template, it will then ask you to join your blogging software, see below screens, and that's it, you can now quickly publish all your blog post on the fly,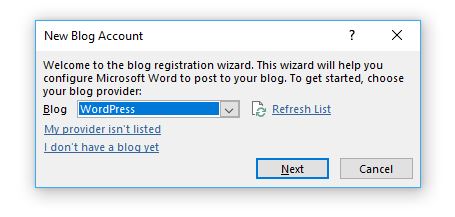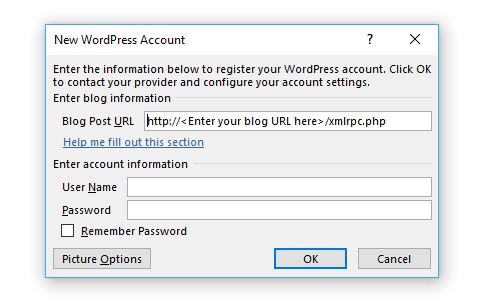 Where to publish
Here are few excellent channels to consider publishing your content
Quora a viral social channel designed to publish and deliver content, you can create your profile, post your content and grow your audience, unlike many other social channels, Quora is specially designed to share knowledge by answering questions raised by the community and one of its kind social platform to deliver content
Blogger, the platform owner, is Google where you can create your blog and share your ideas with others in your community, platform offers built-in analytics to check insights, it also provides a free domain, and blogger community is vast with millions of members from all over the world, so you have fair chances of a proper exposure
LinkedIn is a vast network of professionals worldwide, where individuals publish their professional profiles and share professional experiences, this network also gives facility to post & share content
Integrated Blog unlike all 3rd party channels, consider keeping a good space to nurture your blog by publishing & sharing valuable content, I suggest to deploy an integrated blog of WordPress and if you don't know how to install you definitely require an experienced web design company so if you haven't set up an integrated blog for your website yet, it is time to do it now, A pro tip: (you can generate good blog ideas via Hubspot)
Digital publishing industry is vast. However, we suggest starting with above mentioned primary platforms which will give you enough fuel to kick-start
Content strategy
This section is related with an execution of things you have gathered till now, a proper content strategy is well defined with goals & purpose and for specific audience segment as well, however you cannot achieve this without finding what your visitor is looking and interested in, this is called as 'Buyer Persona.'
And you have to keep things revolving in and around buyer persona; this will not only help you increase your 'Avg. Session Time' on your website when a visitor stays on browsing till the end but also helps you achieving higher shares, mentions, comments, likes which means you are generating emotional connection with your visitors and this is really a great sign, perhaps socializing without emotions is like a gun without a bullet, isn't it…
Make sure to audit your existing content before making a new content strategy for the upcoming month or year, having a broader look at the past content will help you determine the new policy in a better way
The best content is the most readable, well divided in headings and sub-headings, you can use Hemingway App for a content breakup, formatted with punctuation & grammar, and for that Grammarly is a great tool to publish mistake free content
Below are few hints you should keep in mind while creating your content structure
Provide answers to questions and solutions to problems that your readers may have to draw them to your site and add value
Write content that users can take action on
Optimise your content with targeted keywords, so that your readers can find it when using search engines to search for subjects related to those keywords
Avoid "Keyword Stuffing" – Unnecessarily cramming keywords into your copy. Search engines see this as an immediate red flag and penalize your site because of it, ultimately undoing all your hard work
Keep it concise and to the point
Avoid turning your content into one long sales pitch, even if you're writing on your official blog. A Call to Action at the end is excellent, but first and foremost your content should be adding value
If you're writing for third-party publications, leave out the sales pitch and CTA altogether and focus on creating an emotional connection with your readers
Avoid using too much anchor text linking in the content as Google is frown upon this old school techniques.
Write to be engaging
Use thought to provoke headings and subheadings
Use eye-catching, high-resolution graphics relevant to the subject
Use accurate sources of information with facts and figures. Where possible, present this in an infographic to give readers a quick "takeaway."
Over to you
If you can't decide whether or not to hire a content writer and still not sure why you need website content in the first place, we are happy to explain the critical component of your website's success, see how?
We have summarized the content writing and optimization process into the following flowchart.
You will find the article helpful
---