8 AI Copywriting Tools to Improve Efficiency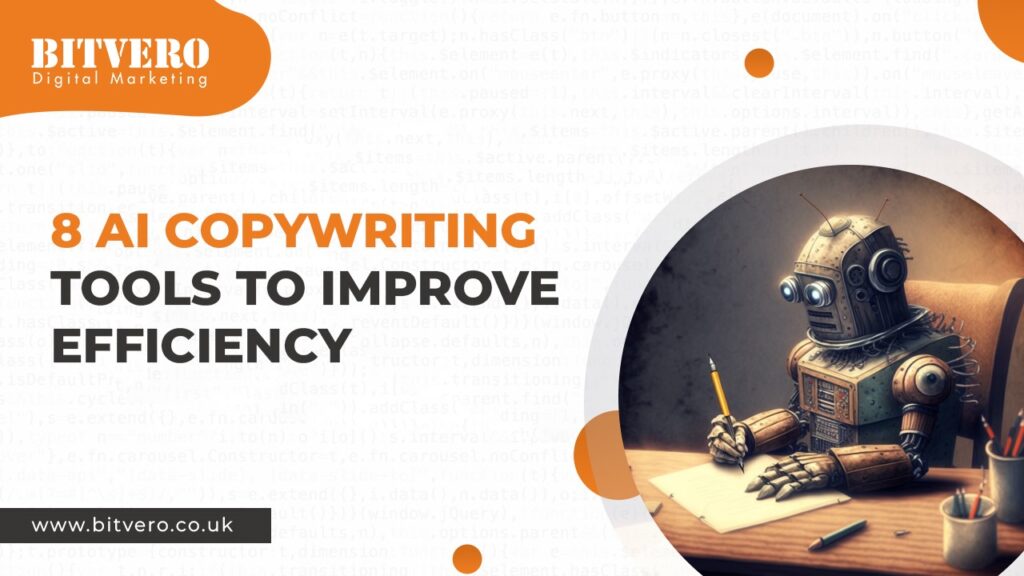 We all know the importance of copywriting in business marketing to persuade customers.
But also, we cannot deny the fact that crafting marketing copies can sometimes be difficult for several reasons. For instance, lack of writing skills or not having enough time.
If that is the case, using AI tools to create effective copies for social media marketing, email marketing or even Google ads is a great alternative.
There exist several AI content tools that can help you do effective copywriting.
Here we are curating eight powerful AI copywriting tools to generate quick ideas instead of spending hours brainstorming.
These tools will streamline your copywriting process, saving both time and energy.
Let's take a look at them!
Copy.ai
Copy.ai is a great tool for quick and effective copywriting. It provides a chatbot with whom you can hold conversations and give instructions on what your copy is about and how you want it to be.
In addition to a live chatbot, the tool provides various template options for different kinds of content.
For example, the tool has several templates for your social media content, including writing a social media bio, creating social media contests/giveaways and more.
Features
90+ Copywriting Templates
Multilingual Support
Built-In Plagiarism Checker
Chrome Extension
Various tone options
Cost effective
Pricing
Free Plan: 2000 words per month
Pro Plan: $36 per month
Enterprise Plan: Customizable
Output
I asked copy.ai to write a social media post highlighting the benefits of getting a website design service from Bitvero. Look what its response was.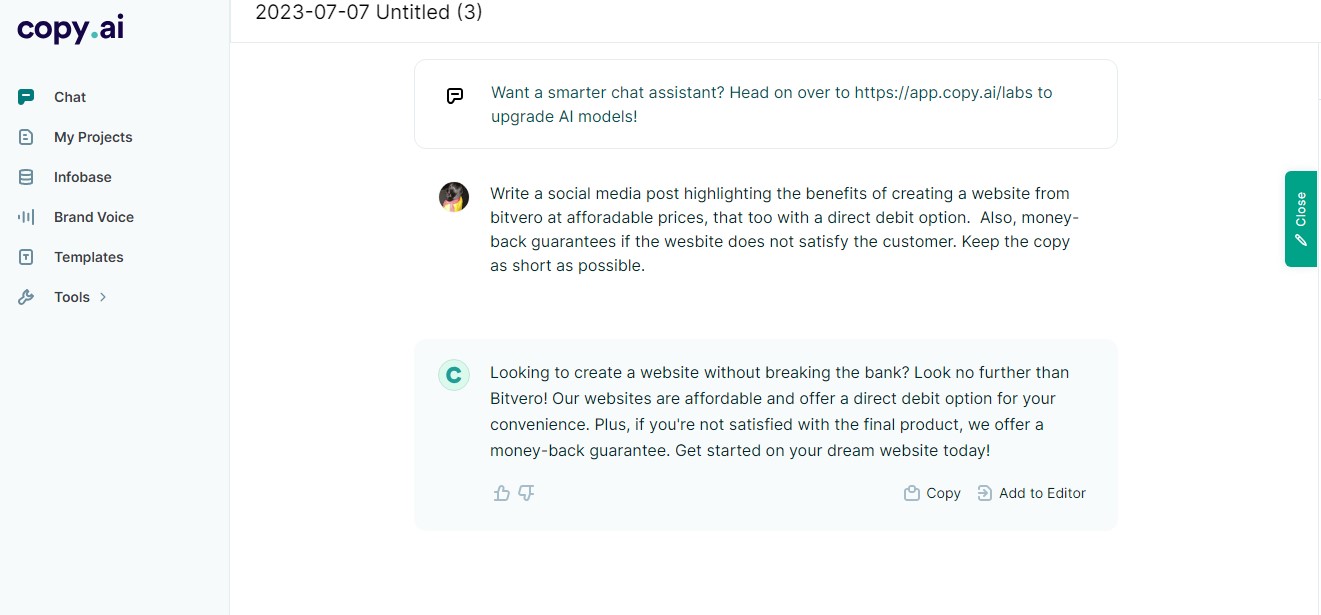 Jasper.ai
Previously known as Jarvis, Jasper is another copywriting tool that helps you save time by producing high-quality content. It is highly effective as it considers factors like your target audience and keyword analysis while creating marketing copies for you.
The tool provides various template options to choose from according to your needs. It can handle many copywriting tasks, from Amazon product descriptions to promotional email copies.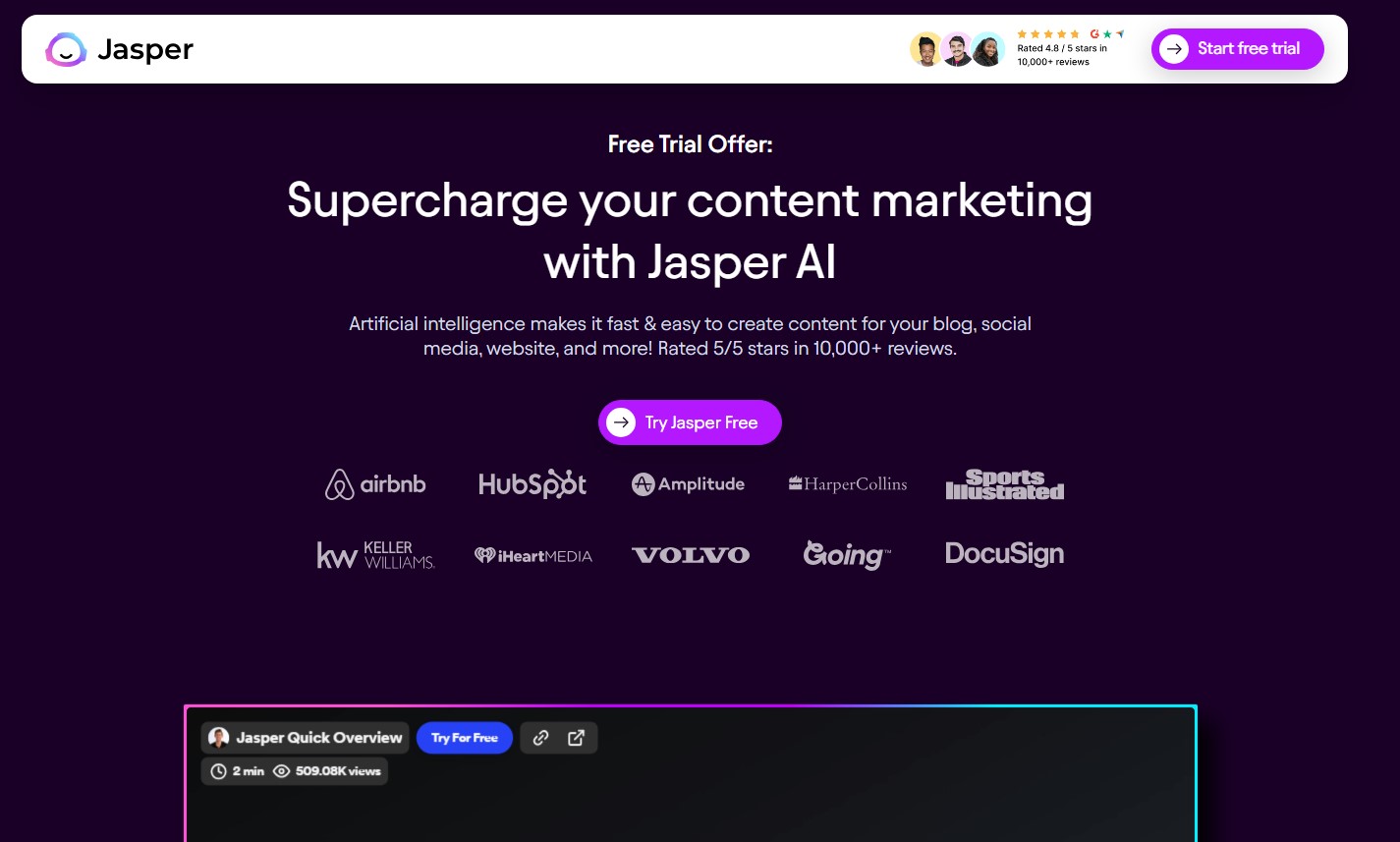 The tool uses machine learning that helps it produce original content – that means no fear of plagiarism.
However, it still comes with a plagiarism checker to help you ensure the content is not plagiarised.
Features
For eCommerce
Collaboration Tools
Customizable Templates
Multi-Language
Plagiarism Detection
Reporting/Analytics
Revision History
Rich Text Editor
Speech Recognition
Third Party Integrations
Pricing
Seven-Day Free Trial (credit card required)
Creator Plan: $39 per month
Teams Plan: $99 per month
Business Plan: Custom
Copysmith
Headquartered in San Francisco, USA, Copysmith was developed by Jasmine Wang in 2020.
The tool uses GPT 3 technology to generate responses.  It is best for writing e-commerce product copies.
Whether you want to write product titles to bullet points, the tool has several template options to help you.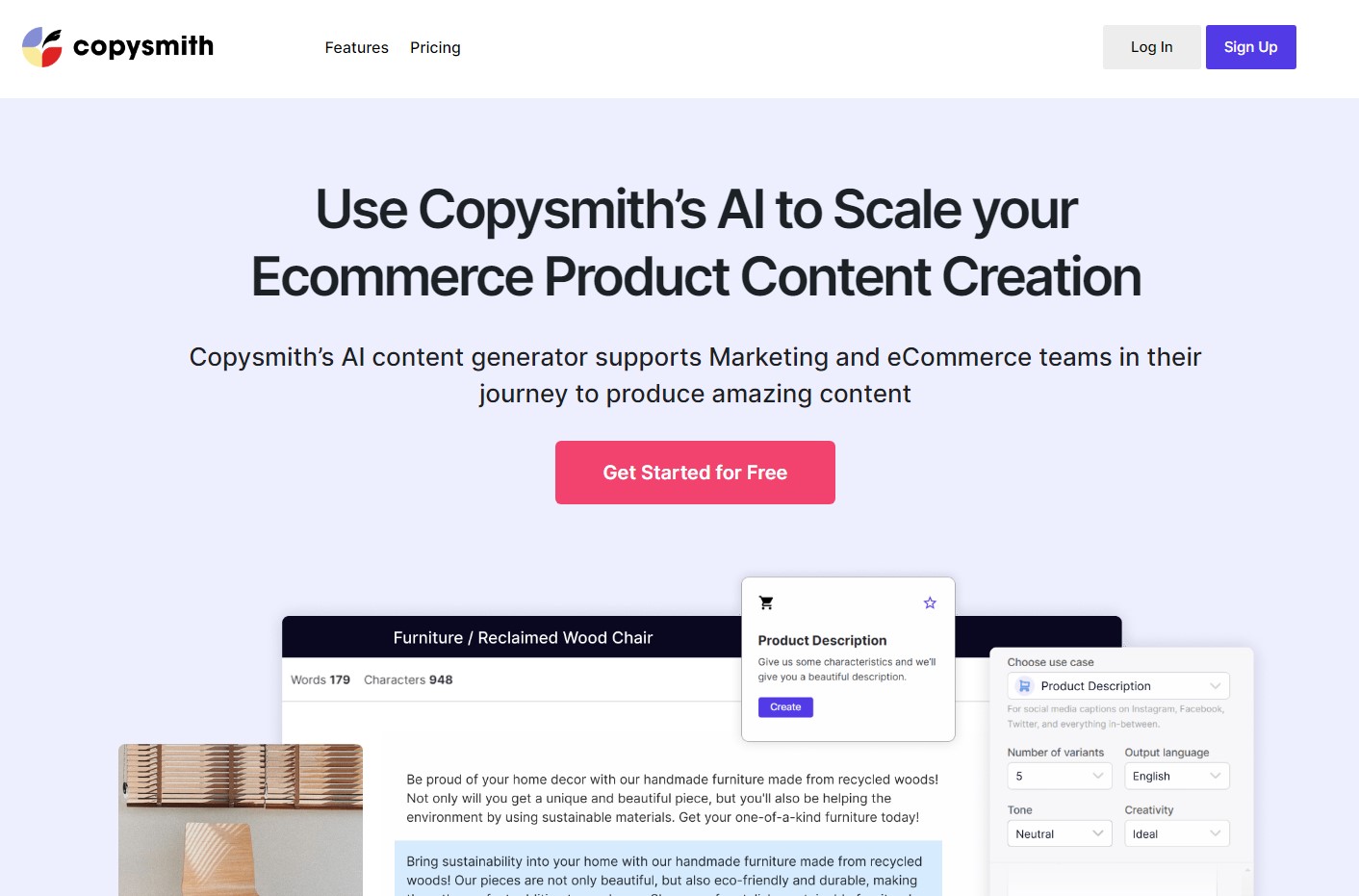 The best thing about the Copysmith AI tool is that it lets you write product descriptions in bulk.
You must provide it with your products' features and other important information; the rest of the tool will do for you.
Features
Multiple use case
Multilingual
Various tone options
Third-party Integrations
AI Image Generator
Chrome Extension
Bulk Product Descriptions
Bulk Content Generation
Pricing
Seven days free trial
Starter Annual Plan $228 per year
Pro Annual Plan $490 per year
Enterprise Plans- Customizable
ChatGPT
It may not be the oldest but the most sensational AI tool ever!
Developed by OpenAI, ChatGPT is a popular AI tool that has become a buzz among netizens.
The chatbot interacts conversationally and is capable of understanding human-like language.
Unlike other AI tools, ChatGPT does not offer various templates to help you with copywriting, but still, it excels in generating creative and engaging copies.
Whether it is a copy for social media marketing, Google ads or even an email copy, ChatGPT can produce it quickly, that too enriched with keywords.
You need to instruct ChatGPT what your copy is all about and how it should sound –formal, casual or else.
You can also provide additional instructions like what keywords you would like it to insert into the text and at what density.
Features
Based on GPT 3.5 architecture
Supports multiple languages
Can understand & respond to a wide range of topics
Available in both web & App versions
Available for free use
Pricing
ChatGPT 3.5-Free Version
ChatGPT Plus- USD 20/month
Output
I asked ChatGPT to write web copy for a digital marketing company in London that would highlight USPs and have strong calls to action. This is how it responded.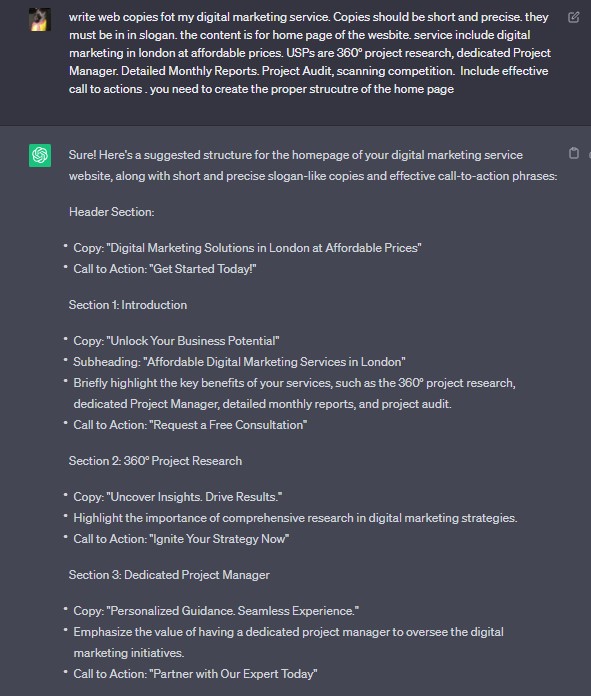 Google Bard
Bard is Google's counterpart to ChatGPT. It is a conversational chatbot, just like ChatGPT.
However, Google Bard does not rely on already-fed information to generate responses; instead, it pulls data from the internet.
Bard does not provide various copywriting templates for social media marketing or email marketing, but it can still help write compelling copies with proper instructions.
It can even help you in keyword research for search engine optimisation.
Features
Accepts voice input
Provides real-time information
Generates multiple drafts
Can translate over 100 languages
Can write different kinds of content
Can be integrated with other Google products like Docs, Drive, Gmail etc.
Pricing
 Output
For social media marketing services, Bard wrote the following social media post. I think it is not perfectly written, but it can be turned into a great piece with human intervention.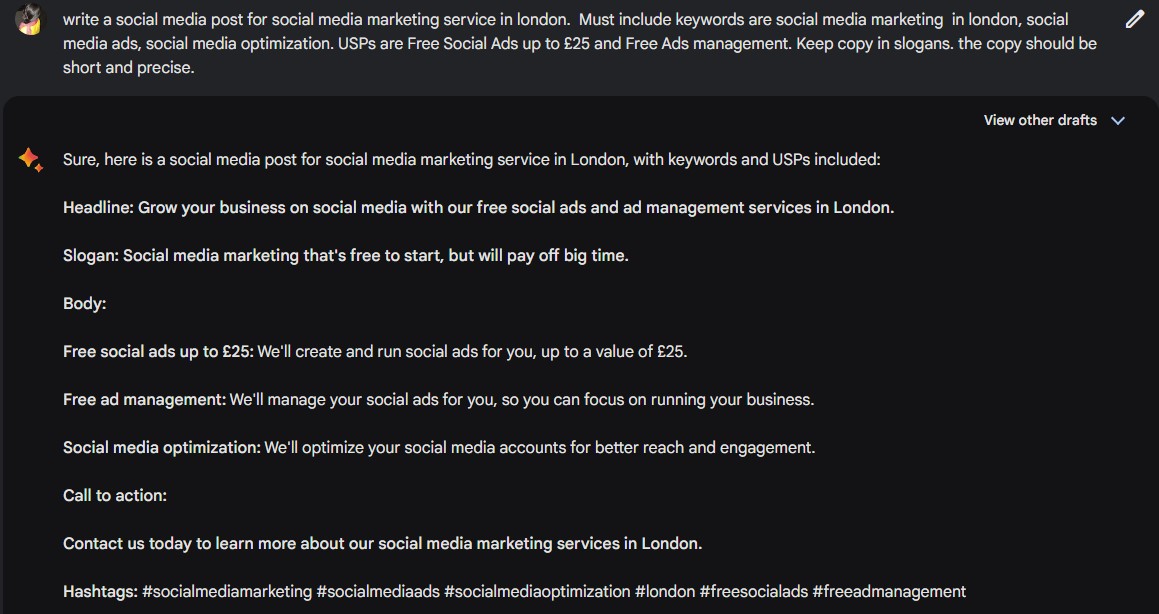 Writesonic
Founded by Samanyou Garg, a US-based entrepreneur WriteSonic is another AI tool that can help you craft effective marketing copies.
The tool uses GPT 3.5 technology to streamline the copywriting process, with various templates generating content for different purposes.  From writing social media ad copies to creating Google ad titles or descriptions, Wrtisonic can produce any content in seconds.
Within the tool is a ChatGPT-like chatbot called the "Chatsonic", which interacts conversationally.
However, it differs little from the ChatGPT as it can access real-time data and accepts voice commands.
Features
Live Chatbot
Chrome Extension
Bulk Generative
Multilingual
Brand Voice Creation
Paraphrasing Tool
Landing Page Generator
Sentence Expander
Text Summarizer
AI Image Generator
Product Description Generator
Pricing
Free Trial: 10000 words per month
Unlimited Plan: $16 per month
Business Plan: $12.67
Enterprise Plan: Custom
Output
Chatsonic, in response to my query about writing promotional email copy for email marketing.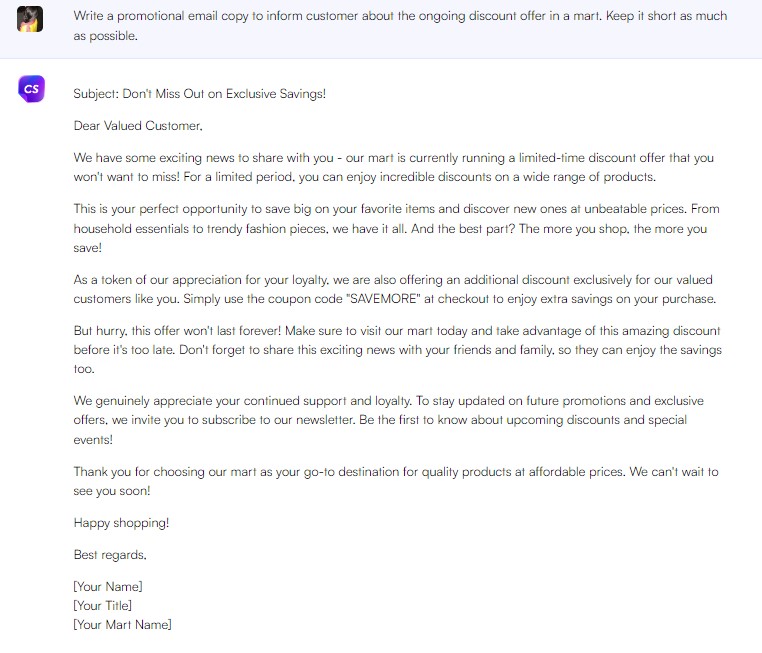 QuillBot
Unlike other AI tools, Quillbot does not generate fresh marketing copies per your instructions. Instead, it helps you to rephrase already written (human-written) content to make it effective. Besides offering a paraphrasing tool, Quitllbot also offers a summarising tool that lets you summarise copies effectively.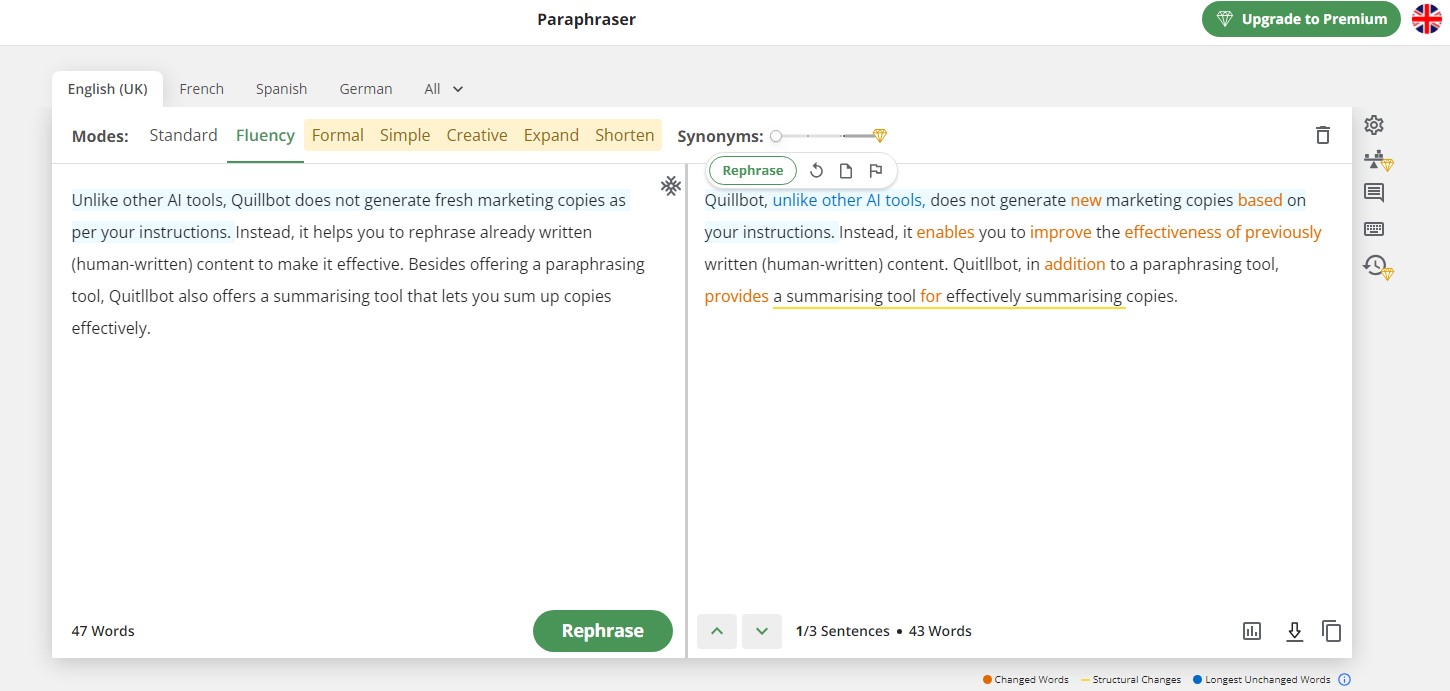 Features
Multilingual
Different Writing modes
Chrome Extension
Microsoft Word Extension
Style Editor
Plagiarism check
Sentence formatting
Tone checker
Grammar Check
Pricing
Free Version: lets you rephrase only 125 words at a time
Annual Paid Version: USD 4.17 per month
Wordtune
Like Quillbot, Wordtune is a rephrasing tool that aims to improve the quality of marketing copy. It allows you to change the tone of your content to formal or casual. Also, you can use it to get a shortened or expanded version of your text. Apart from this, Wordtune also offers an option called "Spices." It is like adding spices to your existing content by enriching it with creative expressions.

Features
Sentence Rephraser
Style Editor
Sentence formatting
Tone checker
Grammar Check
Chrome Extension
Pricing
Free Plan: allows upto to 10 rewrites per day
Premium Plan: $9.99 / month (unlimited access)
Final Note
We hope the curated AI tools will make your copywriting task easy and interesting.
However, it should be noted that copies generated through AI tools sometimes can led to negative consequences.
These may include making irresponsible claims, unintentional plagiarism, inaccurate or biased information, factual errors and more.
Thus, before publishing such content conducting a thorough manual verification and adding a human touch is highly recommended!
Thank you for reading through the article. In case you are looking for a professional copywriter for all your copywriting needs, do not hesitate to reach us.
---