Keyword research for SEO: How to do it right, a step by step guide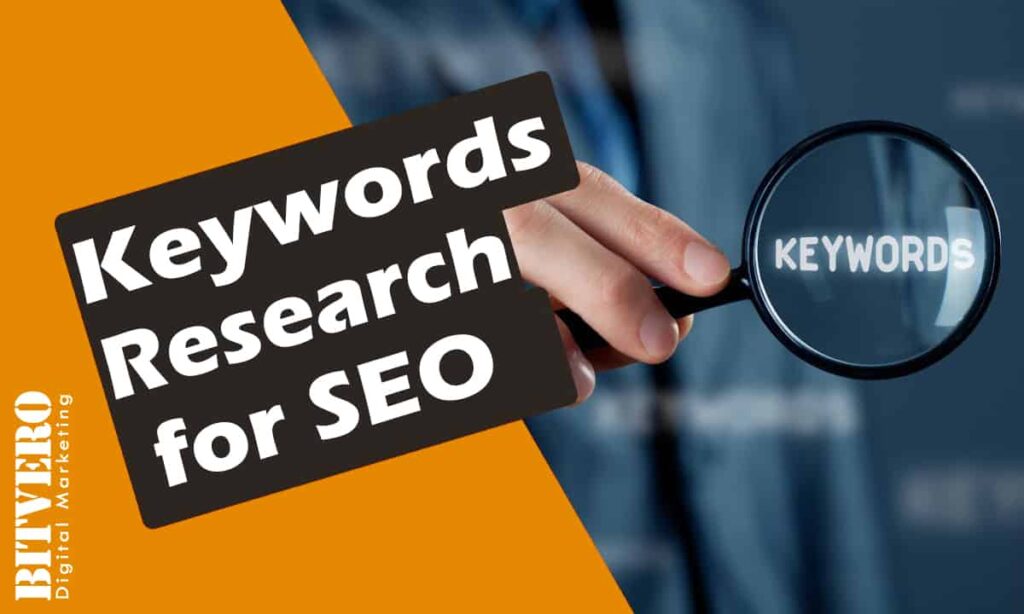 Your handy guide on How to do keyword research for the blog, for your website, for PPC/Google Ads.
Keyword Research Guide includes
What is a keyword?
Keywords are simply words we use to search the internet using search engines like Google.
Let's open google.co.uk and search for the keyword 'IT support'

A little observation shows that Google is showing the results after examining 17.82 billion web pages where the term 'IT Support' exists and that again within just 0.82 seconds.
Thanks to Google. That's the technology they possess. Back to top ⇧

How to perform a search?
Check few things after performing your search,
Google knows where you are sitting; thus, it will tailor your search result specifically to your region.
E.g. if you are sitting in the US and wants search results for the UK region, how will you do that?
Go to setting > search settings > region settings > and change it to the United Kingdom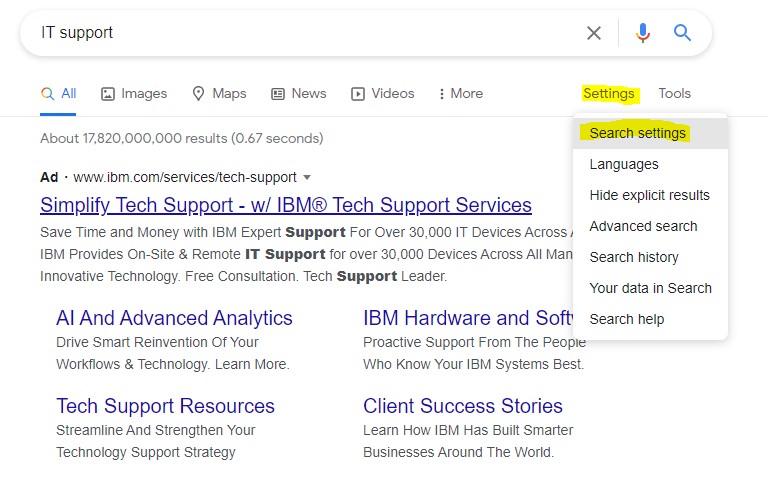 And you will find the difference in search results in the UK and the US region, and so on; thus, Google always shows you region-specific results for an excellent search experience.
You can note search settings and results does not affect if you are logged in or not.Back to top ⇧
How to examine search results?
The very 1st part you will observe is a paid ad that Google is showing through a keyword bidding procedure in Pay per Click Management (PPC) or Google Ads.
And so we call it a paid search result.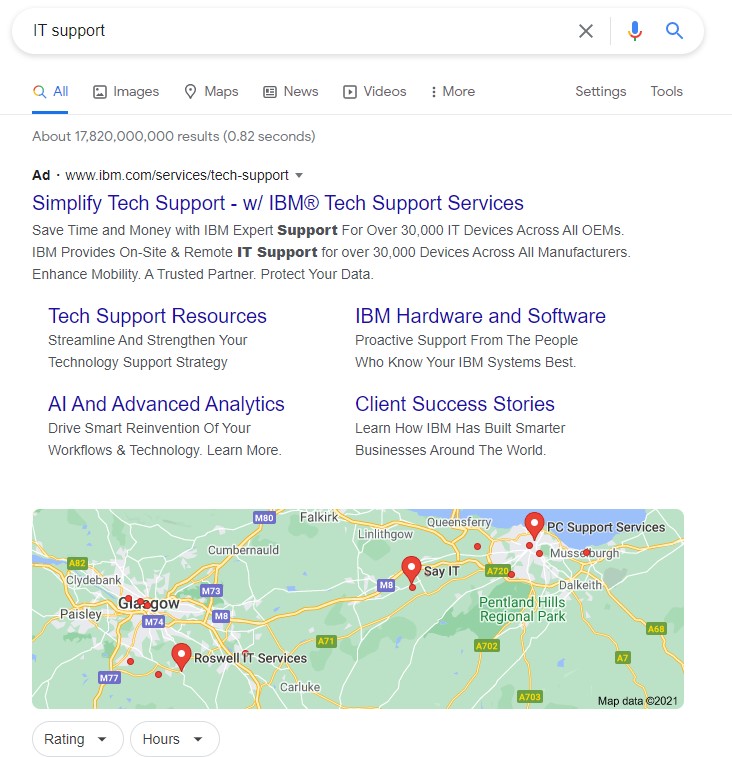 The 2nd part is showing map data based on popularity and reviews. It is primarily based on Local SEO Services because neither we are logged in for a precise location nor mentioned in our search term.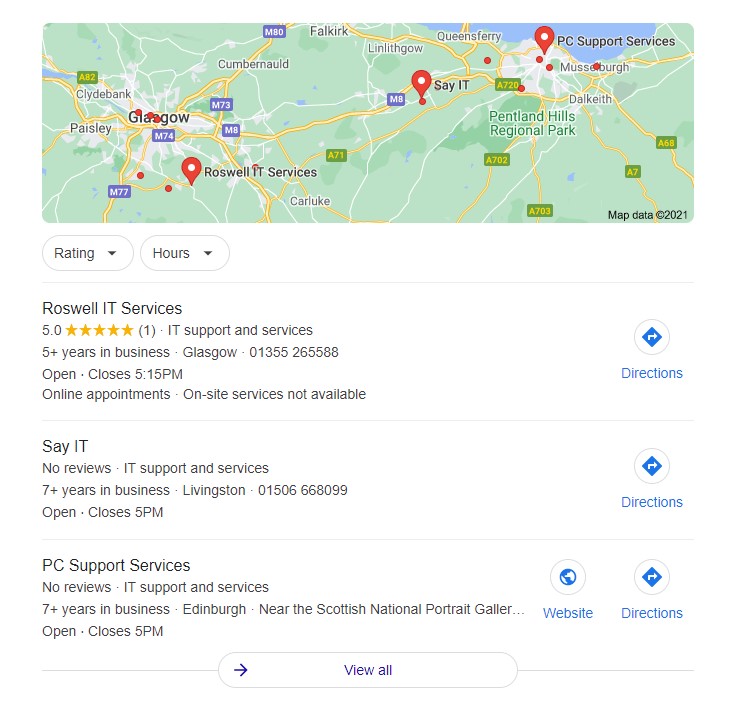 The 3rd part is related to the queries people search along with their answers. Therefore, the region serves as the question & Answer desk and presents you with your search term's most supportive and related questions.
The part deals with structured data & rich snippets

The 4th part is related to organic results, which Google thinks is highly targeted for your search term,
The organic SEO is all related to appearing on this part only; apparently, the weightage to appear here is highest as people trust organic results and search bots.
Google is restricting a total of 9 organic search results on the first page.
This part primarily details how your website pages are optimised and how popular they are; thus, we can say this part is entirely based on your SEO & SEM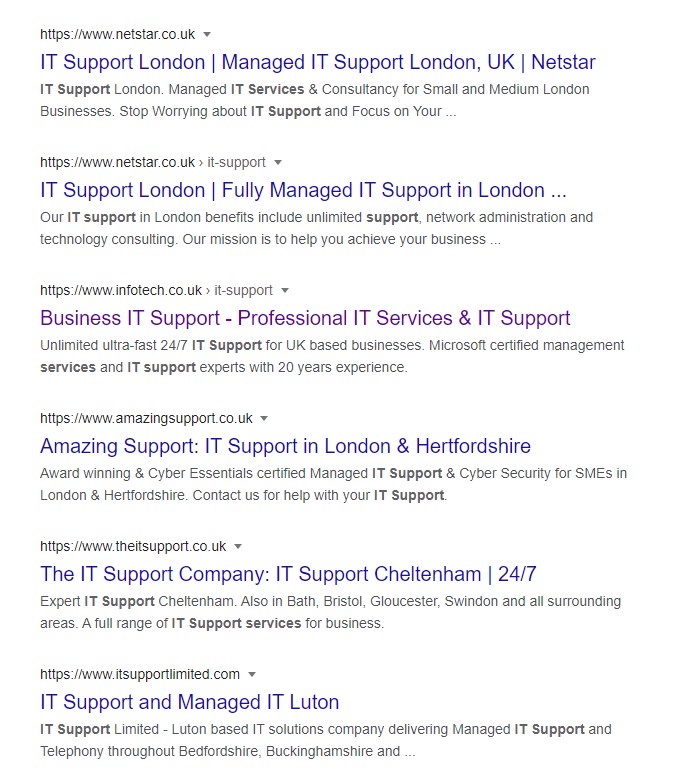 The 5th part is related to the images, where Google shows the most appropriate and relevant images.
The part is again related to organic SEO services.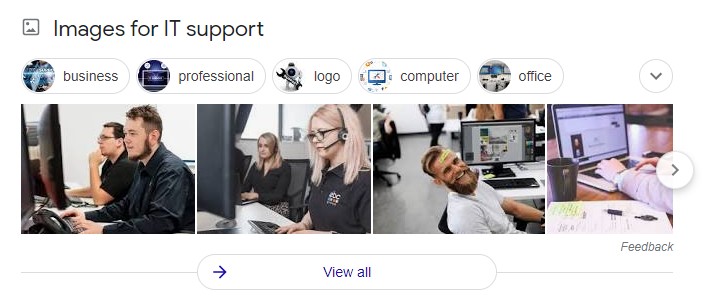 The last and the 6th part is related to the searches, where Google shows alternative keywords people search based on popularity.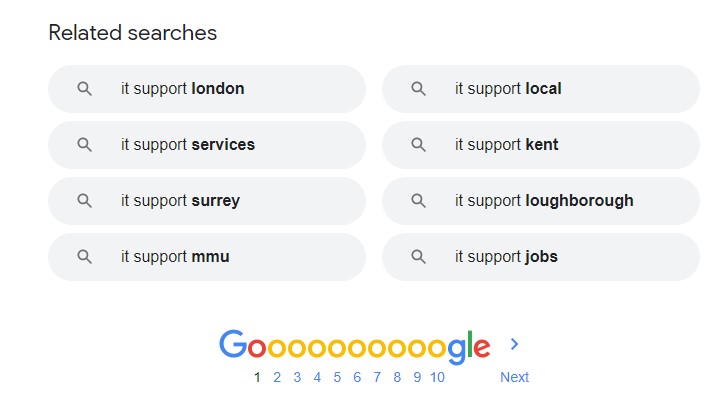 Keyword Research: What if you are not satisfied with the search results?
You can either add more words to your current search to make the results more precise, go through more pages, or click on one of the related searches Google suggests.
Keyword Research: Why understanding keywords are essential?
The easiest way to find anything on the internet is Google respective you know how to find it?
Google can show you precisely what you are looking for, although it requires the exact search term as well.
These search terms are the keywords, and thus they are essential, so the keyword research is too.
And while search makes sure to use prepositions wisely like as, at, by, for, in, of, on, over, up, via, to, till, with, within, without, since, round etc.
I am saying that Google understands prepositions wisely too and uses BERT – Bidirectional Encoder Representations from Transformers for NLP (Natural Language Processing).
The program is open source, where the technology allows anyone to train their question-answer system.
Pandu Nayak, Vice President Google search says,
The breakthrough resulted from Google research on transformers: models that process words concerning all the other terms in a sentence, rather than one-by-one in order. BERT models can therefore consider the full context of a phrase by looking at the words that come before and after it—particularly useful for understanding the intent behind search queries
He also confirmed Google is performing BERT queries using cloud-based TPU's (Tensor Processing Units); they are much powerful than traditional CPU's (Central Processing Units). Back to top ⇧
Keyword Research: What is keyword intent?
Keyword intent refers to understanding the meaning behind the query. E.g. the meaning behind the two given sentences are different, and so the searchers intent as well
Benefits of drinking milk
Benefits of drinking milk at night
Phones under £200
I-phone under £200
When to eat a banana
Why eat banana
Google understands the intent behind the query and tailors your results.
Now let's consider the example and search
IT Support UK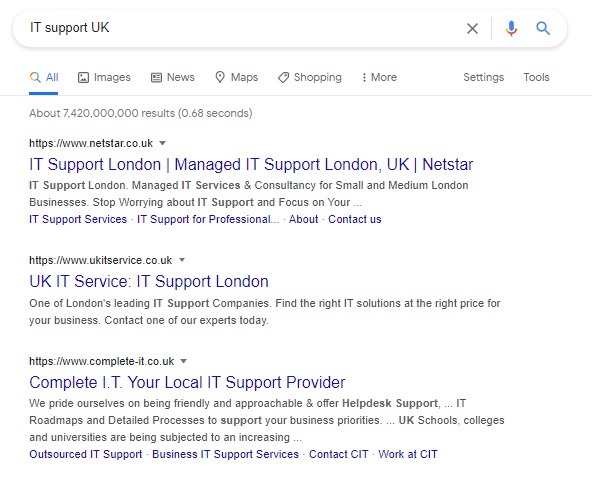 Next, we will search the keyword
IT Support In UK
As the intent of the query is the same, so most of the search results are similar.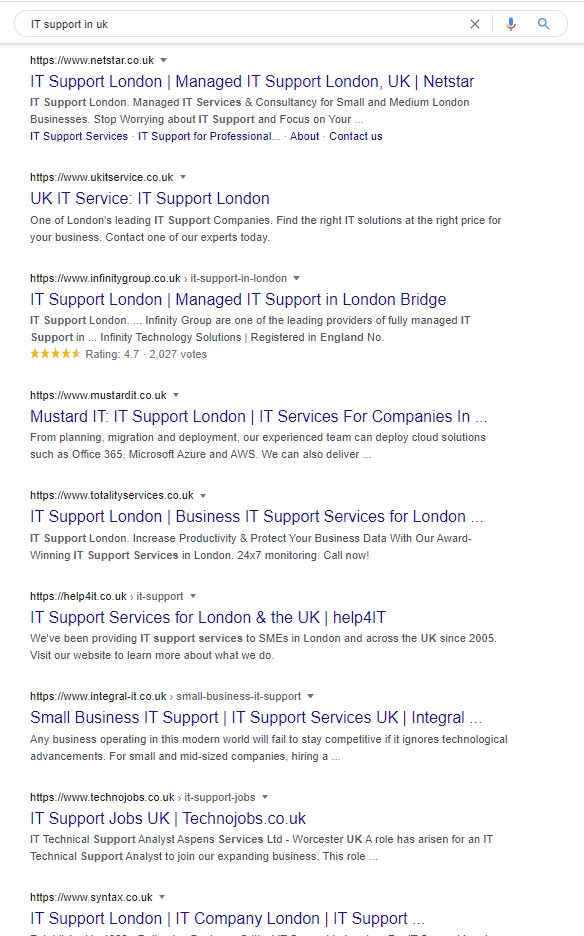 Now see the search pattern where Google is returning searches based on intent
How to reduce fat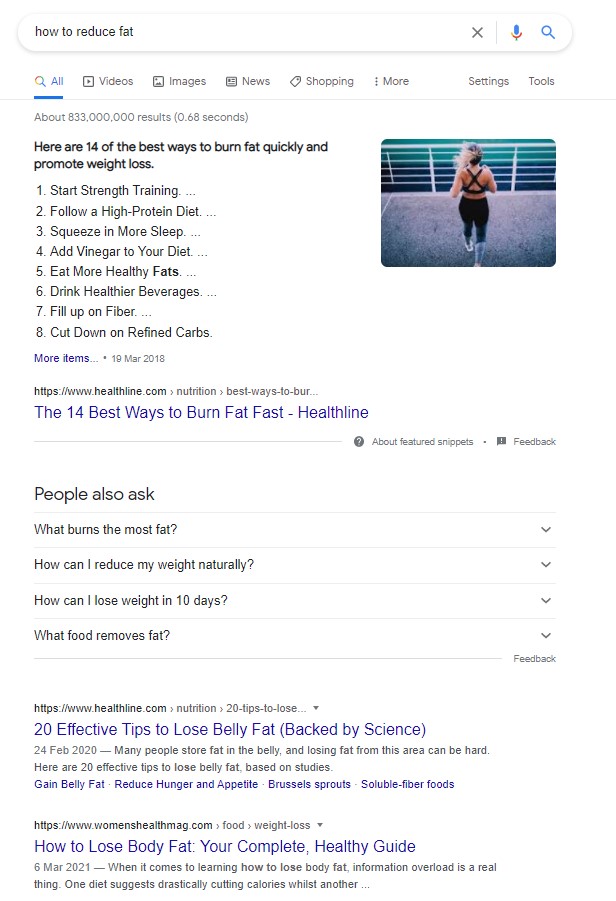 Why reduce fat?
When to reduce fat?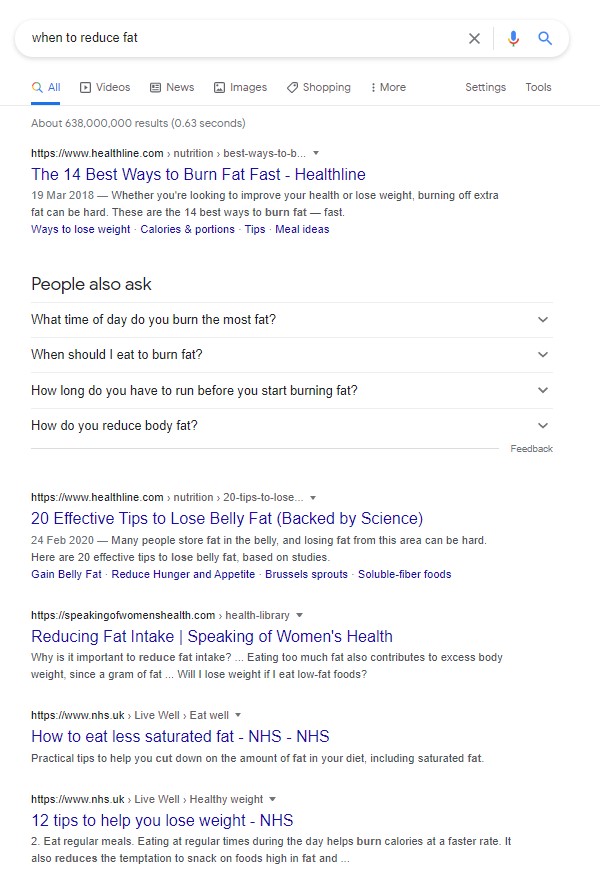 You can see the difference where Google understands the intent behind the search and returning different results, especially the questions and answers, first link with rich results, organic results as well,
Thus, rest assured that if you search the exact term, Google will return you the accurate result. Back to top ⇧
Keyword Research: What are short tail and long-tail keywords?
Google understands that people are impatient and wants the accurate result of their search, and so they search for complete sentences as keywords.
And the intelligent algorithm shows the exact result as well. And Google calls that search a long tail search or a long-tail keyword.
e.g. you can search for the keyword 'Ethical SEO Consultant in London' 'the cost of doing 10 page SEO' 'How to calculate the cost of desktop support services' 'what are the elements in onsite-SEO.'
Whereas if you are searching for one or two words shows the query is a short tail keyword, e.g. SEO consultant, SEO Cost, On-site SEO, desktop support, etc.
The search results in a long-tail keyword are more targeted than a short tail query where search results may come up generic, and you may struggle to find your Answer and repeat the search.
Although most of the time, people avoid typing long queries and try to find the desired result within the short tail keyword search.
With short tail keywords, Google intelligent algorithm tries to show a highly tailored result. So if your website is highly optimised, trusted, referred by others and verified, only Google search bots will offer it as a top result in search.
Thus if Google is showing your website in top results for a short tail keyword means high traffic. Back to top ⇧
Keyword Research: Why it is essential to choose the right keywords?
Friends, it is essential to choose the right keywords for your website as they can lead to a make or break situation that may cost you time and money.
Any wrong selection of keywords may prove fatal to your website project.
Let's see how
Google ranks those websites loved by visitors; on the contrary, if visitors dislike your website by closing or bouncing back from it, Google will also dislike and will not rank your website whatever you do.
Now imagine if your website is optimised for the generic or wrong keywords; what will happen?
E.g.
If the company is doing wholesale of specific garden products like stakes, furniture, fountains, insects
And if you're SEM optimises your website on keywords like garden products, garden accessories, garden articles, garden ware, etc. will lead to bounce as these keywords are more suitable to those companies catering a complete garden range.
Thus if you are dealing in specific garden products, Google says to optimise & market your website or webpages on exactly the targeted keywords and not the generic ones unless needed. Back to top ⇧
Thus it is clear why to choose the right keywords for your website.
Keyword Research: How to find volume searches of keywords?
Friends, volume searches simply means how many people are searching for given keywords locally and globally.
And if you know these stats, you can better prepare for your business.
Imagine you are planning to market a product that no one searches for; now you know you have to create a demand for your product; thus, you will change your marketing approach entirely.
Finding the volume searches will help you understand the online market in a better way.
So how to find it? Back to top ⇧
Google: Keyword Research Tool
The Answer to keyword planner not showing search volumes?
Google provides a keyword research tool / Google Keyword Planner; sadly, they will only show you the data range of keyword volumes like 24-100 and not the actual number of exact volume searches.

And if you need exact volume searches of keywords, sadly, they will ask you to sign up first.
Frankly, in my opinion, that's not something the community expects from Google L and is quite shocking.
And if you guys agree to it, then ask Google with hashtag #freethekeywordplanner @google Back to top ⇧
Keyword Research: Keyword Tools
You can also have valuable data from 3rd party sources, like Mangools, keywordtool.io, Word Stream; apparently, they are all paid.
I use Mangools due to competitive pricing and excellent features like building a keyword list, great dashboard.
Let's search the exact keyword 'Garden Stakes' in Mangools, and here you will find accurate volume searches of the same keyword and many other related keywords as well.
They will also show you the SERP (Search engine ranking positions) overview, which means who comes on top with the keyword.
They also allow searching keywords by domain.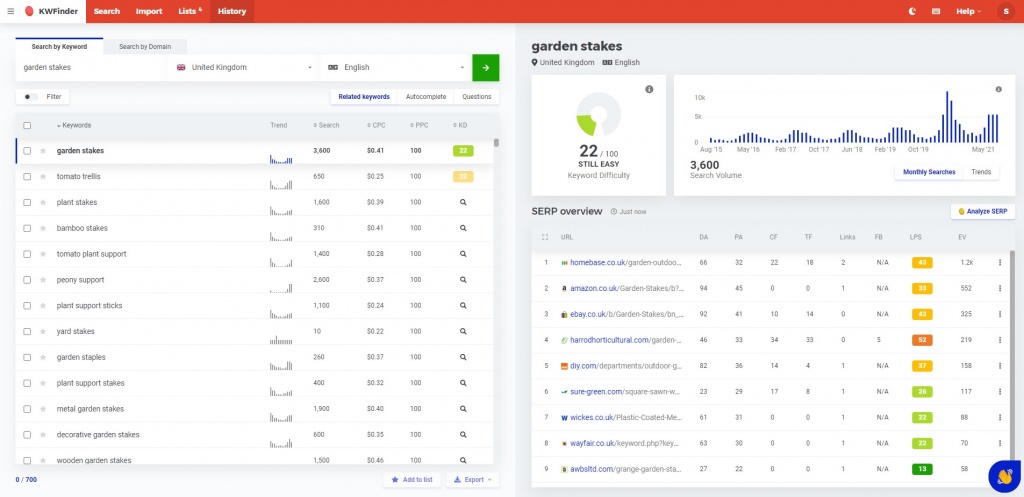 Back to top ⇧
Keyword Research: Should I select the high volume searches keywords? And the process to choose primary & secondary keywords.
If you are inclined to select high volume search keywords, it's a natural behaviour
You need to select carefully, as high volume keywords may likely attract bounce if the UX, UI, CTA is not strong on the page.
On the contrary, if the volume searches are relatively lower? For example, if you are observing them as ten or even lower. Then in the first instance, you may think to overlook them?
Let's see the correct process to make a selection of keywords for your website or webpage
We can consider the real case scenario of our website Bitvero

Before searching for keywords, the essential part is to check your website strength and visitor holding capacity on individual pages.
Ask yourself if your website pages are compelling enough to hold visitors attention.
What is the CTA? And what exactly do you expect the visitor to do once they land on your website or web pages?
Let's consider the example of the webpage Website Design London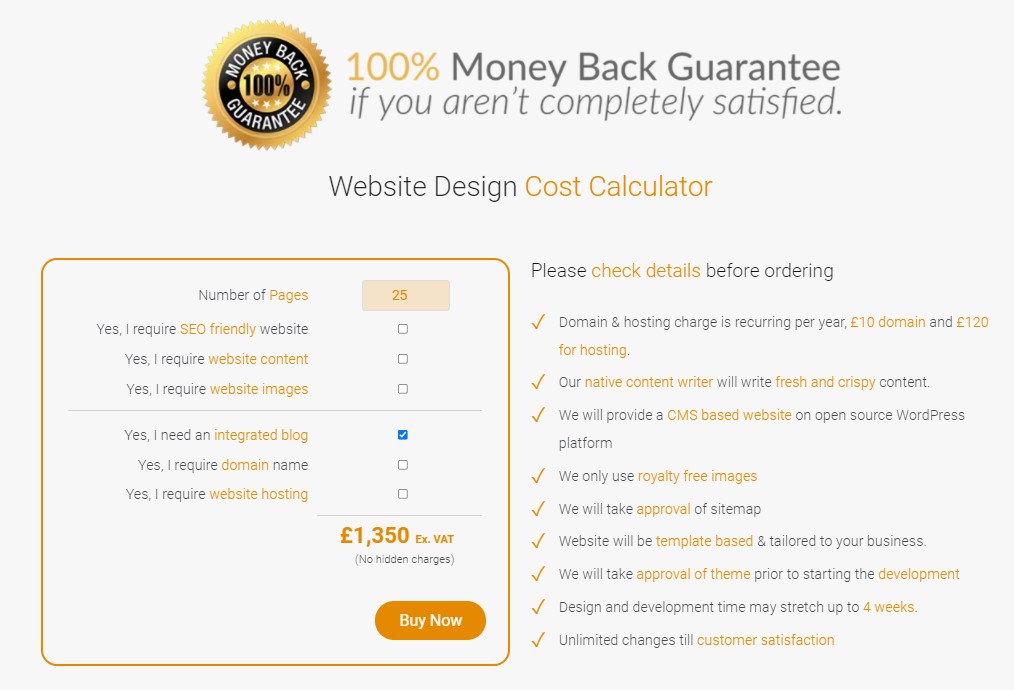 The page is all about those visitors who are looking to find the cost of the website development in the United Kingdom; thus, we have equipped them with the exact relevant information they are looking for, e.g.
A simple cost calculator to design a website
What is the ordering process
What we will deliver
What we need from the customer
A simple graphical flowchart explaining the website design journey
Testimonials
Contact form
Consultation if needed
A compelling tagline
Accurate headings & sub-headings
Meaningful graphics
We are also mentioning related parallel processes like managed hosting, website redesign, website support.
Blog resources are also showing targeted information related to website designing.
We have also published case studies for those visitors who are willing to connect
Thus, what is the intent of the page?
The page is E-commerce where a visitor can calculate the website design cost and order it online,
What is the CTA? (Call to action)
Online order form, phone number, enquiry form
Does the page keep a visitor holding capacity?
Yes, after showing all relevant information
Does the page content show keywords naturally?
Yes, keywords are appearing naturally in the content
Above are the questions keeping in mind visitor perspective, now it is time to find the relevant keywords
Thus, you can see the relevant things before keyword research.
I would like to use the tool Mongols, although you can use your choice of keyword tool.
Let's open the keyword tool and search for the keyword 'Website Design Cost.'
And the tool reveals volume searches, other related keywords, cost per click in PPC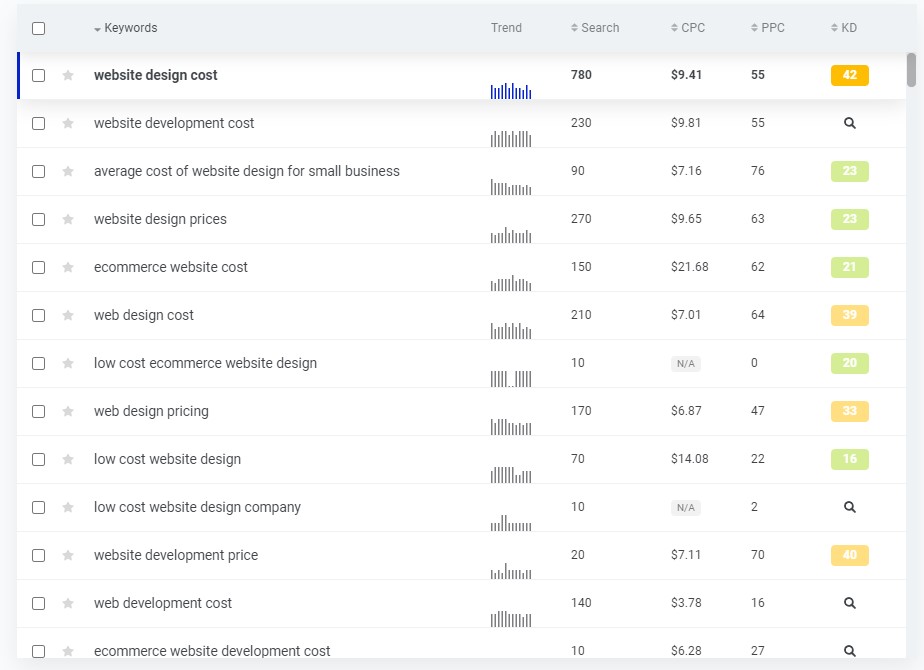 Not only that, but the tool will also show you the SERP overview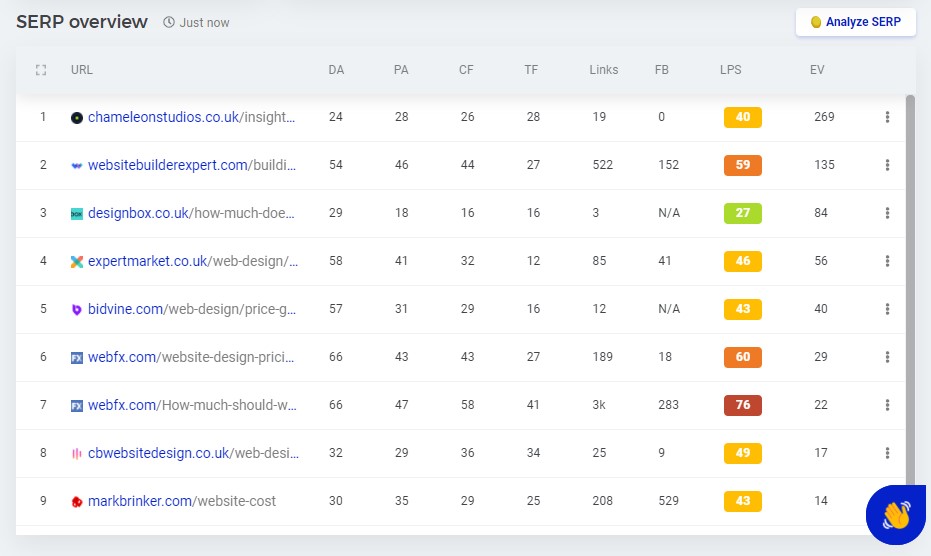 These are the critical stats for you to consider keywords
Back to top ⇧
So what next?
If you are thinking to consider all keywords, think again!
Although most of them are relevant and targeted to our webpage, perhaps some are not,
At this stage of keyword research, we will preserve all the relevant keywords and keep them for selection of SEO & SEM, search engine optimisation & Search engine marketing services, respectively,
Now, you can make your selection and add them to a list, and the tool gives you the option to create a new list or add in the existing one.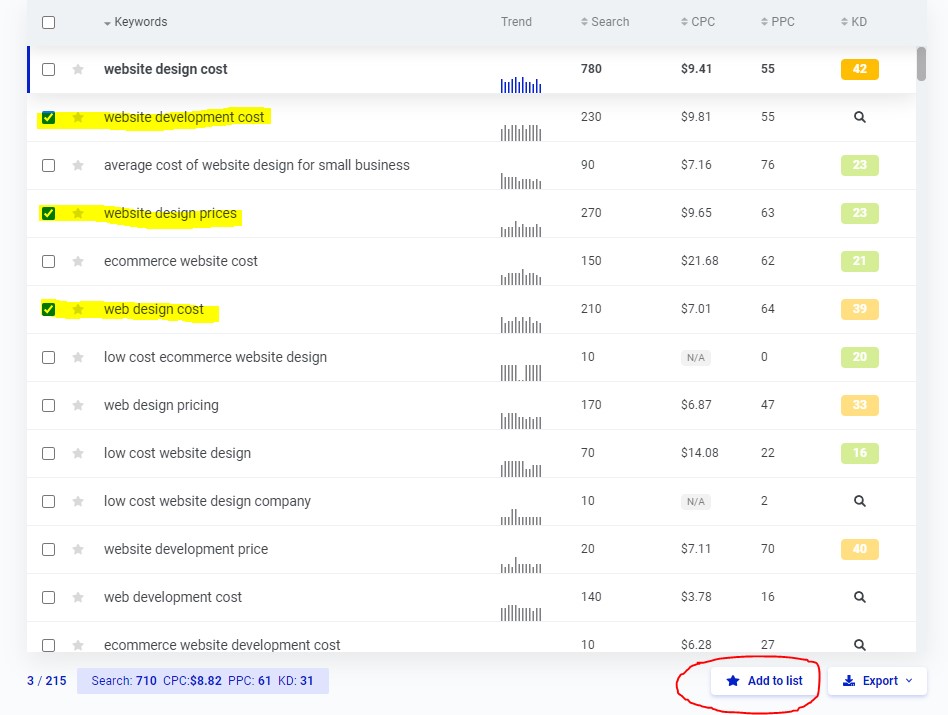 Next, open the sheet and sort it with 'Average volume searches of past 12 months from highest to lowest.'
Next, we will give yellow colour to high volume search keywords and blue colour to all the low volume search keywords,
Now in the next phase,
It is time to look at each keyword and mark them with green closely should you wish to select.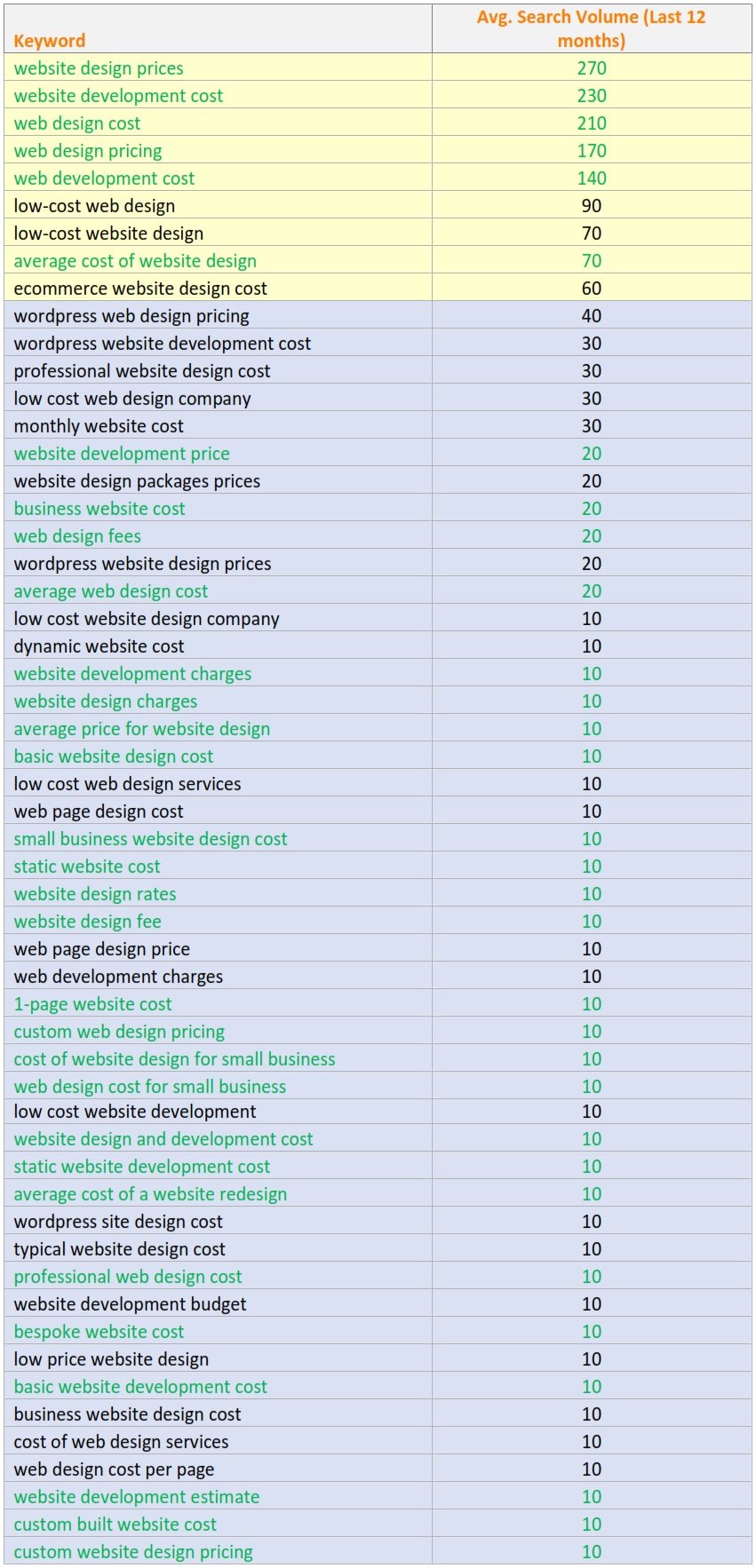 At this point, you now have your primary, secondary & tertiary keywords for the page,
Although not for the whole site.
Thus it is necessary to repeat the process for the other pages or the whole site upfront,
And gradually, you will come up with your targeted keywords in three different flavours
Primary keywords
Secondary keywords
Tertiary keywords
Primary keywords are kept for recurring monthly SEO, and they are finalised with the client for which search engine ranking positions are agreed within a set period,
Thus primary keywords are kept for Search Engine Marketing Services
However, we can make use of secondary & tertiary keywords while optimising the website pages, and the process is called Search Engine Optimisation
Now what next
You need to find out the primary keywords from the list of all the green ones,
Let's see how to do it:
Keyword Research: How to select primary keywords
Now keep the formula to derive the most compatible primary keywords only.
If the keyword is passing the breakers below, you can consider it for primary use
The keyword is highly targeted for the web page
The keyword is having a considerable number of volume searches
Consider synonyms e.g. price / cost / rates
For short-tail keywords with high volume searches, select if they are targeted for the webpage
Give the selected primary keywords a different colour, Back to top ⇧
Keyword Research: How to choose secondary keywords
Next, we will make a selection of secondary keywords we will use to optimise our website pages,
You can use all the below pointers while selecting the secondary or tertiary keywords
Consider selecting targeted keywords from a broad perspective, e.g. website development charges, 1-page website cost etc.
You can consider low volume search keywords respective they are targeted
You can also view long-tail keywords during the selection
You can also consider unique words and synonyms in your choice.
Using all the above breakers, make your selection and come up with your keywords. Give them colour and mark them as primary/secondary
Now, what next?
Make a new tab in excel and copy all primary keywords using a filter, then make another tab in excel and copy the secondary keywords using the same option.
At this point,
For the first time, you now have a definitive number of keywords, primary and secondary both.
Which is a good sign!
The smile on your hard work
Next, analyse both the lists again and recheck if in case you are missing anything. Back to top ⇧
Keyword Research: What are the steps after finalising the keywords sheet?
The most crucial phase, which is the keyword selection, is done at this stage. However, these are only the proposed keywords, and you have to discuss with your client to finalise & freeze them.
It will be a better approach if you open a discussion with your client on the proposed keywords & strategy.
After that comes the sitemap based on SEO for the proposed digital asset part of the pre-SEO consultancy process. Back to top ⇧
The final take
So friends,
Let me know how you like the process,
Keywords selection is a sensitive topic and may make or break the situation when it comes to SEO.
Be proactive and make informed decisions to avoid mistakes.
Strategies of Google is by, and far revolves around keywords, content, UX, UI.
However, keywords are one of the primary arenas where Google plays.
How?
We enter only keywords (long tail or short tail) for any search.
So that's it.
I hope you enjoyed reading the guide as much as I wanted to write it.
---