How Startups can Boost Business Conversion with their Websites?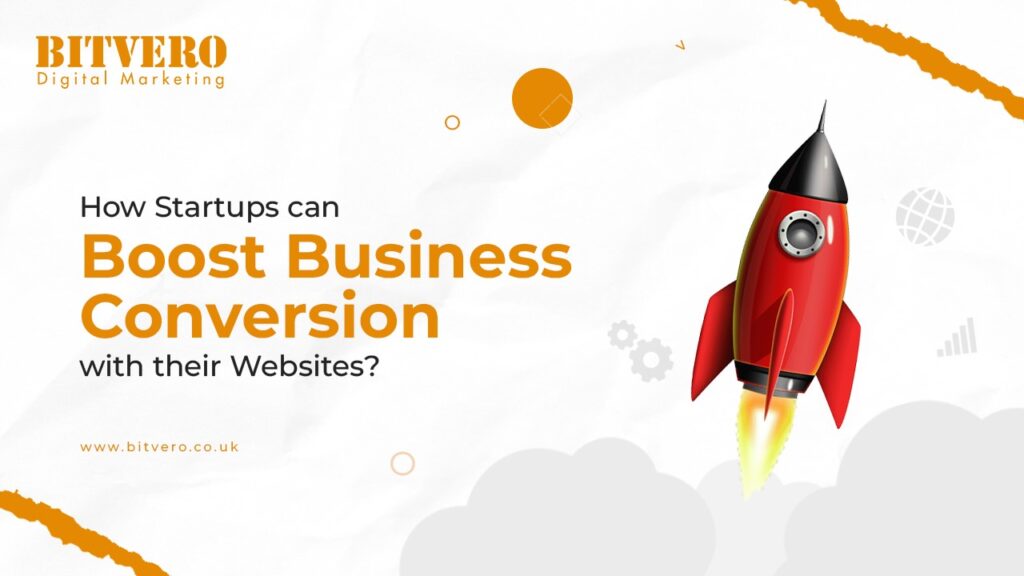 Every business wants its website to yield more and more conversions- so do startups. In fact, startups eagerly expect their website to be a conversion machine.
However, due to the initial growth stage, the highly competitive landscape makes them often strive a little with their online presence.
So, in this article, we will share some important tips to improve startup website conversion.
But before that, let us understand what conversion rate is and how to measure it.
What is the conversion rate, and how do we measure it?
Conversion is when a user, upon visiting your website, takes the actions that you desire.  For example, you may want them to make a purchase, download a guide or sign up for a newsletter, depending on what you want.
The percentage of how many visitors took that desired action is what we call the conversion optimisation rate, or simply a conversion rate.
To measure the conversion rate, you need to
specify what exactly you want your visitor to do on your website.
set up a web analytics tool like Google Analytics to track your website traffic and conversions.
Calculate the current conversion rate using the following formula-
Conversion rate = (Amount of conversions / Number of website sessions) * 100%
For example, if your startup website gets 10,000 visitors in total and 100 out of them take the desired action, your conversion rate will be 1%.
Tips for improving website conversion for startups
Now that you know the current conversion rate, you can make efforts to improve that.  In this, the following tips can help boost business conversion for your startup.
Keep it simple
If we talk about the overall design or even the structure of your startup website, overcomplicating it can overwhelm customers.
That means if a user searches for any information, they should find it in an easy way without facing any complications or confusion.
If that is not the case, visitors will get frustrated and eventually leave the website without any conversions.
To keep it simple, here are some key points you can consider during the process of website design for a startup.
Keep navigation clear.
Include search bars
Organise content
Minimise distractions
Avoid too much text
Make it load faster
People usually do not spend much of their time waiting for a page to get loaded.  If takes more time, they simply close it and go for a similar website that does not run like a snail.
In this scenario, the speed of the website becomes a crucial element impacting your overall conversion rate optimisation. 
As per the Google guidelines –
The main content of a webpage must load in 2. 5 seconds. If it takes between 2.5 seconds and 4 seconds, then improvement is needed, and if it takes more than 4 seconds, it is considered poor.

Furthermore, according to the Portent survey, landing pages with a 0-2 second load time have the highest conversion rates.
Simply put, the quicker your startup website loads, the better your conversion rate will be.
Keep Content Compelling
The more effective your web copies will be, the higher the chances of better conversion.
By the term "effective", we mean concise and precise content that provides clear information and captures the attention of the audience.   Compelling headlines complemented by high-quality visuals work as a powerful tool in achieving this goal.
That is because when the content is both informative and visually appealing, it not only engages your visitors but also seamlessly guides them. If you ignore its importance, your website project continues to fail without compelling content.
Optimise call-to-actions
Including call-to-action is not enough. Optimising them for both visual appeal and clear messaging is what an effective strategy to improve conversion rate requires.
Highlighting CTA buttons using contrasting colours and paying attention to their font size is what makes them prominent.
Additionally, careful selection of their placement also makes them yield high conversion rates.
Require less information
Asking for information that is really necessary should be your guiding principle; even the GDPR says that.
When you ask for a lot of information, it creates friction and leads people to abandon your website.
 According to a study carried out by Omnisend,
The highest-converting number of fields is three, meaning if you ask for three pieces of information, you'll have an average conversion rate of 10%
The most popular combination is to ask for an email address and name (7%), followed by email address and birthdate (5.7%)
To avoid excessive collection of information, you can note the following key points-
Craft short-term deals
Crafting short-term deals is one of the best practices for website conversion for startups.
This is because when you make limited offers live with deadlines on the website, visitors feel a sense of urgency and think they can miss out on the offer if they do not quickly make a purchase.
Once they confirm the order, it eventually turns them into your actual customer and increases your conversion rate.
Give your social proof
Adding proof of your social existence is another way to improve the conversion rate of a startup website.
Attaching customer reviews and testimonials makes people believe that your product or service is trustworthy.
Additionally, providing the links to your social media handles instils trust among visitors about your business and its credibility. According to a 2021 report by PowerReviews,
over 99.9% of customers read reviews when they shop online.
79% of consumers specifically seek out websites with product reviews
Furthermore, 96% of customers look for negative reviews specifically.
In a survey, 20% per cent said customer testimonials can effectively take your website to the next level.
19% believe a blog is most important
Social media icons ranked as the most important website element for 30% of respondents, overshadowing live chat, customer case studies, and the blog.
Simplify your forms
Lengthy forms can make potential customers drop the idea of continuing with your website.
This is because of the human tendency to prioritise convenience and neglect time-consuming tasks.
In this scenario, if customers find you are asking them to fill in a lot of information for a specific action, say, filling up an order form or signing up for a newsletter, users decide not to proceed.
This not only causes you to lose a potential customer but also increases your bounce rate, which may affect all your search engine optimisation efforts.
Thus, including lengthy forms on your website is not a part of an effective website conversion strategy.
End Note
We hope by using these tips, you will succeed in boosting website conversion for your startup businesses.
However, if you are looking for a professional website design service in London, then Bitvero can help you.
In fact, we cannot only provide you with an effective website for your startup but also ensure that is within your budget.
With our new package, you can get your startup website designed at an initial payment of just £5, and that too with a money-back guarantee if you do not find the final outcome as per your taste.
Not only this, but also, if you want to continue with the website, you do not need to pay the balance payment in one go; instead, you can set up a monthly direct debit.
Sounds interesting? Check out the package details now!
---