The Essential Elements of an Effective Handyman Website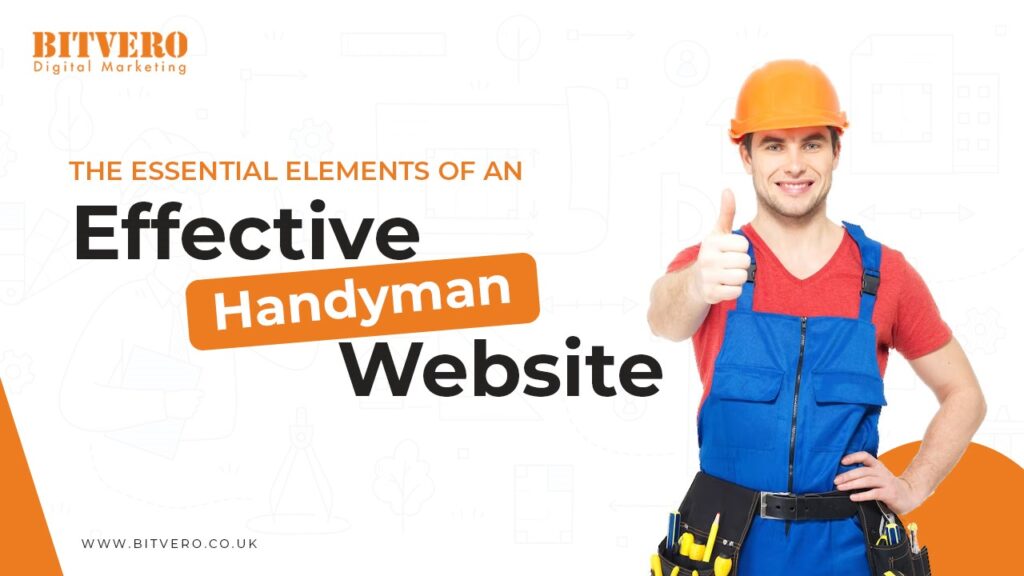 The website has become necessary for every kind of business, including handyman services.
As people have a grown tendency to run towards the internet in the hope of finding the solution for almost every problem, their leaky taps, loose cabinets, broken windows, and walls looking for touch-ups are no exceptions.
In this scenario, the incumbent on handymen is not to miss out on this opportunity. Of course, it can be possible only when you have a platform to attract the concentration of potential customers towards your services. Here, a website or, to be more precise, an effective website acts as that platform!
Yes, you can create a basic website through a Handyman website builder, but how to make a Handyman website effective is what you need to know about.
An effective website needs to have some essential elements that go beyond the aesthetics and satisfaction of simply having a website.
So, in this article, we will be discussing those essential elements that can inspire your handyman website ideas.
Let's start!
Essential Elements of an Effective Handyman Website
It takes a number of elements combined for a website to become an effective website.
Here, we have divided the essential elements to keep in mind during a Handyman website design process into several categories. Let's get to know about them one by one.
Content Elements
Content comes even before design. In fact, it would not be exaggerating to say there can be no website without content.
Two reasons can be attributed to the importance of content for the website.
One is that it is required to communicate your service or product with the audience, and the other is that it informs search engines about the subject matter of your website.
While creating a website for a handyman, you should use content that effectively represents your services to the visitors. While the keywords in the content help search engines to match the relevancy of your services with the users' query.
As a handyman, you can use different forms of content on your website, including-
Text content
to clearly explain the different types of services you offer as a handyman.

For this, a separate dedicated page named "Services" must be created that will have subcategories of different services.

to provide details of the area extent you cover.
To announce offers and discounts, if any.
Image Content
Using high-quality images that give the idea of the services you provide.
Before and after shots to highlight your complete project
Video content
Short videos to demonstrate your skills.
Note:  Get to know about 3 Major ingredients of content
Design & Layout Elements
Design and layout elements are elements that will shape the user experience of your website. The overall website theme, including font and colour palette and branding elements like logo and tagline, are part of it.
During handyman website design, you need to ensure that all these elements align with each other and have a purpose to serve, like conveying professionalism and trustworthiness.
For this, you can consider the following things-
Select a theme
that looks professional,
gives the idea of your expertise in handyman's work,
has a minimalistic and user-friendly layout.
Branding elements
Choose a logo design that is easy to remember and depicts tools and equipment that are part of your handyman services.
Come up with a unique tagline that shows your values and differentiates your handyman services from competitors.
For color and font
Stick to consistent size and style of font throughout the website.
Choose a colour combination that looks great and conveys trustworthiness.
Make call-to-actions stand out using contrast colouring.
Interactive elements
These elements, I would say, are the most essential elements of a handyman's website. The reason is that they eventually are responsible for fulfilling the purpose of having a handyman website.
In simple terms, they make customers interact on the website by allowing them to ask for inquiries, quotes or scheduling services, which results in high engagement and ultimately drives conversions.
Some of the most important interactive elements that you must incorporate into your website are:
Contact Form
Buttons & CTAs

Click to call button
Request a Quote
Schedule an Appointment

Live Chatbot
Interactive Map
Feedback Form
Portfolio or Project Gallery
Pricing Calculator
Online Payment Gateway
Blog or How-to-Guides
FAQ section
User Experience Elements
Designing elements may attract users to your website, but what is the point of it when you do not provide them with a reason to retain?
For sure, a cover of the book can attract readers, but the quality of the pages, the table of contents and easy navigation are what make the flow seamless.
Similarly, when it comes to a website, its adaptability to different screen sizes, say mobile or desktop, its ability to load speedily, and its capacity to offer an easy user interface are what make the user journey seamless.
That is why, in the process of designing a handyman website, a great user experience should succeed over a great look.
For this, you should consider incorporating the following elements in handyman web design-
Well-structured menus
Internal link to connect relevant content
Breadcrumbs to help users track path
Search bars
Mobile optimisation
Clear call to actions
Performance & Optimization Elements
These elements may not be apparent but are core elements on which the effectiveness and efficiency of your handyman website will rely. They function in the background for the smooth running of the website and sometimes may overlap with user experience elements as well.
As said, these are the core elements, so they are responsible for the overall success of your website. including visibility on search engines, security from threats, and handling the user base.
For example, through reliable hosting, you can get your handyman website a place on the internet, while with the help of search engine optimisation, you make it searchable by the people looking for it on the internet.
So, the important performance and optimisation elements that you should take into account while creating a website for a handyman are-
For SEO

Meta tags,
Schema markup,
optimised URL,
alt attributed images,

Fast Hosting
SSL Certificates
Structured Data
Sitemap
Caching and Content Delivery Networks
Content Silos
Canonical tags
Breadcrumb navigation
Mobile Resposiveness
Page load speed
Looking for a professional handyman website design service in London?
Although, by incorporating all these elements you can easily create an effective website for handyman services on your own. But still if you find that the DIY approach can compromise on the quality or do not know the basics of how to build a handyman website and therefore decide to go for a professional website design service, then you are in the right place.
Bitvero has brought has a new package in which you can get not only an effective website design but also a low-cost website design.
Here is the information on how our new package for handy website design can help you get.
How can our affordable website design package help you?
With our new package, you can get your website designed at an initial payment of just £75, and that too with a money-back guarantee if you do not find the final outcome as per your taste.
Not only this but also, if you want to continue with the website, you do not need to pay the balance payment in one go instead, you can set up a monthly direct debit.
Sounds interesting?  If yes, then do not miss out on the opportunity. Check out the package details now or call us on 020 374 52786
---