How to use AI tools to improve SEO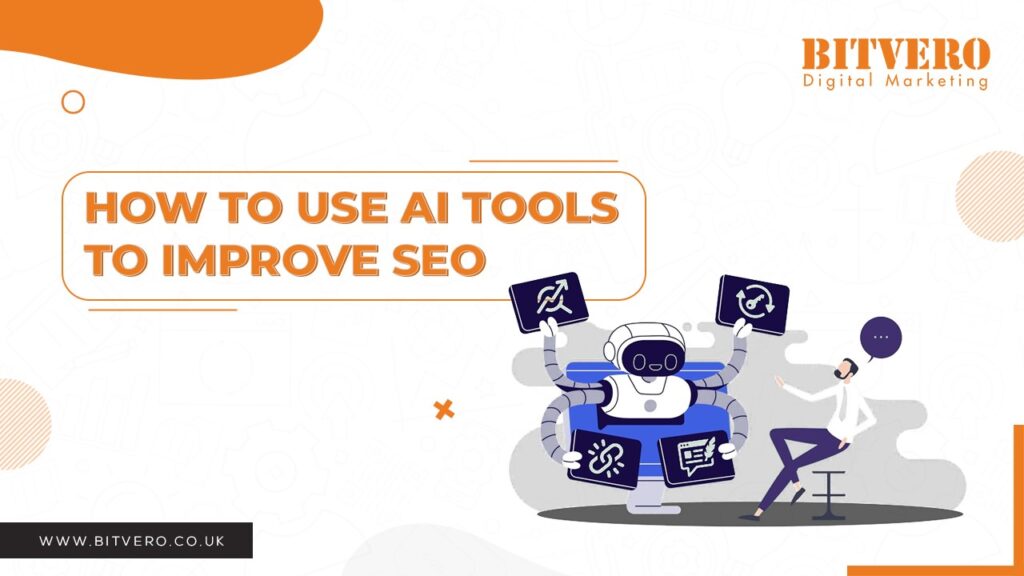 Artificial intelligence is becoming integrated into almost every aspect of our lives, and SEO is no exception.
Various tasks involved in search engine optimisation are now relying on AI technology for faster and better results.
From searching for the right keywords to identifying technical issues related to SEO, AI tools help businesses improve their online presence.
By incorporating the use of artificial intelligence in your SEO strategy, you can ensure that your efforts are not only effective but also ahead of the curve.
In this article, let's explore how you can effectively utilise AI tools to improve SEO.
AI for Keyword Research & Analysis
Keywords are like the cornerstone of a building, forming a foundation upon which your whole SEO strategy relies.
Thus, finding the right keywords is the very first step towards SEO success.
Various AI-powered SEO tools are there in the market to help you research the best suitable keywords for your product, service or industry.
Keyword research tools like Google Keywords Planner, Ahref Keyword Generator, and SEMRush Keyword research tool not only provide you with the right keywords but also help you analyse competition by revealing their search volumes.
You just need to type the name of the service or product to get the key terms associated with it.
For example, in Ahref Keyword Generator, we type the service name, say website design, and select the country of operation.
The tool then generates related terms in both short-tail and longtail forms that people search in the United Kingdom.
In our case, the keywords website design London with 700 search volumes & e-commerce wesbite design with 1.0k search terms can be part of our SEO strategy.
AI for Content Creation
If keywords are the foundation of an SEO strategy, then the content is the house built on that.
Thus, ensuring that content is well crafted, attractive and high-quality is crucial to winning the SEO game.
Google says it prioritises content that is informative, relevant and meaningful to the users' query.
That means by ascertaining users' interests and industries' latest trends, you can create effective SEO content.
For creating content, AI tools can help you in two ways, i.e., providing content ideas generating the content itself.
Content Ideas
To get content ideas, you can take the help of some following notable tools-
These tools can suggest content topics or titles that are related to your industry or product/service.  You just need to enter the keyword you want to get the topic on, and the tool will generate content ideas.
For example, we used the AnswerthePublic tool to get content ideas for the keyword digital marketing and see how it provided content ideas along with the search volumes & and CPC for each topic.
Content Generation
Apart from getting content ideas, you can also generate content for SEO.
AI generative tools like ChatGPT and Google Bard can help you with this.
Whether you want to write informative articles for blog posts or craft compelling web copies, the tools can generate content in different tones, styles, and brand voices in seconds.
AI for Content Optimization
Once you have created the content, the next thing you will require is to optimise that.
Content optimisation focuses on two areas, i.e. making content easily readable by the user and easily detectable by the search engine.
To inform search engines about what exactly your content is about, the on-page SEO is conducted.
If you do not have expertise in conducting on-page SEO, AI-powered tools can help you by determining where content lacks in terms of optimisation and what actions you can take to improve that.
There exist various tools that can instruct you on the page to mould its content or structure according to what search engines prefer.
From instructing you to improve the overall headline structure of page content to helping you add effective meta titles and meta descriptions, the tools have got you covered.  Even they can help you keep the keywords at the right density.
Additionally, some of these tools can provide you with a readability score depicting how easy it is for users to read.
Some examples of AI-powered tools for on-page SEO include-
AI for Backlink Analysis
Ensuring that links pointing to your website are not of low quality or associated with any spammy or manipulating sources is an important part of search engine optimisation.
AI tools like Ahrefs' Backlink Checker, Majestic Backlin Checker or SEMRush Backlink Analytics can help analyse the quality of your backlines & identify toxic links and provide detailed insights into linked webpages along with suggested opportunities for building high-quality backlinks.
AI for Technical SEO
Continuous website audits to identify technical issues are crucial.  Broken links, slow speed of the webpage and, incompatibility with mobile devices etc., can make your SEO efforts go in vain.  While identifying all such glitches manually can be a challenging task, using automated tools or software can streamline the process.
You just need to connect your website with such tools or provide the URL of the web page. The tool scans through the page and presents a detailed report of where your webpage is performing well and what areas require improvement.
The audit report not only highlights the issues but also suggests steps that can be taken to fix them.  Some AI tools that can help you with technical SEO are-
AI for Competition Analysis
Analysing competitors' strategies to beat them in search rankings is part of an effective SEO strategy.  AI tools can help you analyse the overall approach of your rivals, including their strengths and weaknesses.
Whether you want to know the reason for their organic search rankings, analyse their link-building strategy or ascertain their high-performing keywords, tools like SEMrush or Ahref's site explorer can provide an overall insight into their strategy.
Another tool, Similarweb, can help you identify the source of traffic, top referring sites and the audience demographics of your competitors.
Conclusion
While SEO can be optional but is still highly recommended in website design or digital marketing. It is what helps you get noticed by search engines and users consequently.
Moreover, the integration of AI-driven solutions into the realm of search engine optimisation is further streamlining the process with more efficiency, precision & and competitiveness.
As we move forward, it is evident that the duo of SEO and artificial intelligence is all set to revolutionise the way businesses maximise online presence in search results.
If you want a digital marketing company to help with SEO needs check out our packages or call us on 020 374 52786
---