GOOGLE PPC SETUP AND COST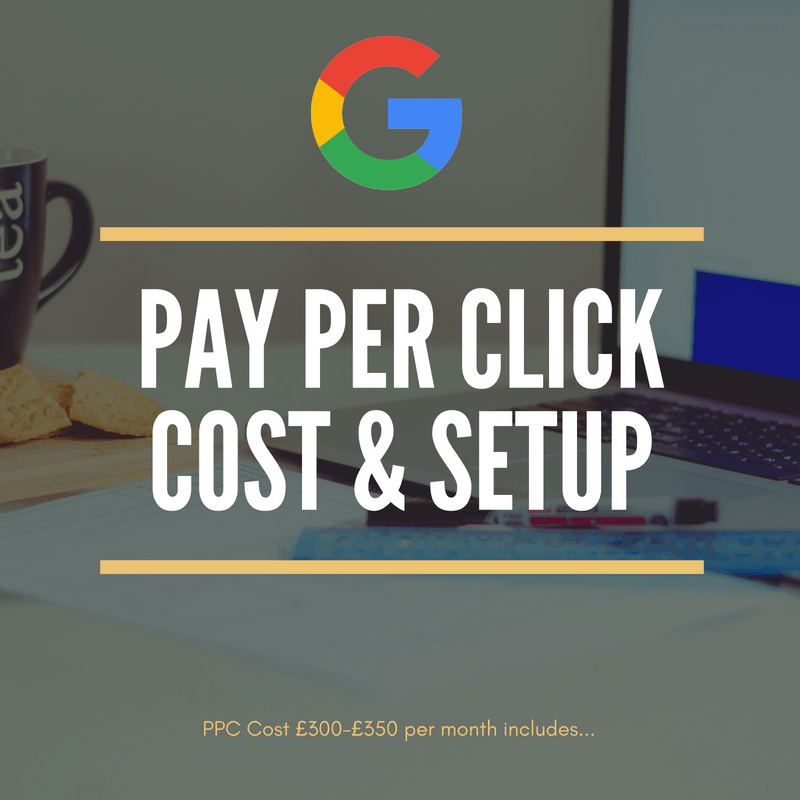 The guide ensures you to keep necessary tools handy and gives you a walkthrough of the setup process which includes essential account creation with setting a budget, targeting locations, simulating bids, creating ads, selecting keywords, landing page strategies, payment setup,

Tools to consider before starting a PPC
A website with compelling pages, to redirect visitors from your ads to the most promising landing page, a simple 10-12 page website design can cost up to £1000 to £1200, though we can see a lucrative website design offer for you
Minimum ad spend, we suggest to start with £300 per month x 4 months, there is no minimum or maximum limit,
A valid credit card to enter in your Google account for payment to Google AdWords
A definitive PPC strategy with set goals, this includes keywords strategy, campaign optimisation & monitoring

Keyword strategy
You can use Google keyword tool to find your best keywords but,
Chose them wisely because the more you select and the more money Google AdWords makes,
Google search is the flagship product and one of the high revenue streams
Google is a search engine, and when you type words to find something via search, Google typically calls them keywords
Someone searching for a keyword 'Search engine marketing' typically may not require Google pay per click (PPC) as both are different services, bidding on the same keyword 'search engine marketing' on your 'PPC Campaign' will result in bounces and draining money.

High & Low volume search keywords
Keywords are typically high and low volume searches, make sure to select the right ones to avoid jeopardizing the campaign

Long and short tail keywords criteria
Short tail keywords are high volume, e.g., you can see the metric of four different combinations of keywords related to SEO,
SEO, SEO agency, SEO agency London, ethical SEO agency London
SEO is a short tail keyword with high search volumes, and you can see a decrease in search volumes as the keyword goes long tail
This way bidding on the keyword SEO with landing page https://www.bitvero.co.uk/search-engine-marketing-services is losing relevancy
Why?
Just because someone searching for SEO could be interested in learning SEO instead of looking for a marketing service,
You can consider discussing your keyword strategy with an SEO consultant if you are unsure about your keyword selection.

Campaign structure & setup
A well-structured campaign performs better and the key to achieving higher results in PPC,
The quality score largely depends on the well-defined campaign structure
Campaign should be segmented with primary identifiers to define themed ad-groups and keywords
You can segment campaigns based on
Your geographical location
Product and services you are offering
Type of keywords you found
As a guideline make sure your ad-groups are highly relevant to the campaign, e.g., creating a campaign-related with SEO Packages London and associating ad-groups like SEO marketing or social media marketing is disjointing and not recommended.
The goal is to achieve relevancy in the creation of ads-groups, campaigns, keywords, landing page.
Typical ad settings in a PPC Campaign

Creation of Ads and Mapping a Landing page
Google AdWords works on a system called 'Quality score' influenced by click-through rate, and quality score is directly parallel with click through, the higher the click-through means higher the quality score and vice versa,
A well designed PPC setup also considers a keyword level quality score while determining the overall click-through rate,
Which means the relevancy of keywords with the Ad-groups
And as said by PPC Hero, The best keyword portfolio and campaign structure can fall flat without the proper ad and landing page experience

Ads
Writing a compelling Ad is a challenge when each word counts due to space limitation in heading, sub-heading & description.
Get as many ideas as you can by observing ad-copy of other companies, check critical areas related with
Brands, how they are portraying to deliver the message on their landing page
Product or service, check the USP's in ad-copy and how ads have been written to describe the product or service
The goal, what they are trying to achieve and what techniques they are using to engage the visitor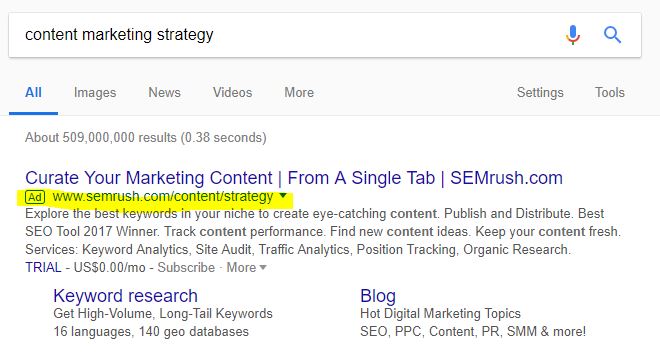 Character Limit in a text Ad,
Allowed character limit is 170
Headline 1, 30
Headline 2, 30
Description, 80
After that comes URL,

Ad Extensions
Take advantage of ad-extensions provided by Google AdWords, see the full list of ad-extensions few important ones are
Call Extension: you can add a phone number or a call button in your ads and encourage your visitors to call you directly
Callout extensions: add additional text to add, e.g., 'Free Delivery' / '30% prices slashed.'
Location extensions: visitors may remember business with its location on the map, encourage them to visit.
Sitelink extensions: provide specific page links of your website to divert visitors.

Landing page mapping
We suggest you map a highly targeted landing page with the ad, should you wish to avoid bounce,
Visitors keep searching unless they reach their targeted page & stuff,
E.g., mapping a landing page 'PPC Cost' where the ad text explains and is related to 'PPC Creation' leads to a bounce in traffic.
The relevancy of the landing page with your message is vital to the success of your campaign,
You can lose a required click through to achieve quality score jeopardizing the whole campaign.

PPC Setup Fees & Cost
As the name suggest PPC means pay per click, Google charge on each click only,
You can note Google AdWords never charge you for impressions which means AdWords system will not cost you if they are displaying your ad to a potential visitor on a specific keyword,
And the charge is the maximum bid on the keyword you are bidding
To understand the process, you should know CTR an essential part which influences the bidding process at large,
CTR (Click through rate)
What is the click-through rate?
A ratio which shows how often people are clicking to your ad.
CTR can tell you exactly how right your keywords and ads are performing.
E.g., if I am bidding on a keyword 'SEO Packages London' and Google AdWords shows my ad 300 times during searches, AdWords says 'impressions,' and the Ad has is clicked 30 times means the click-through rate (CTR) is 30%
Google AdWords describes CTR as
CTR is the number of clicks that your ad receives divided by the number of times your ad is shown: clicks ÷ impressions = CTR. For example, if you had 5 clicks and 100 impressions, then your CTR would be 5%

The formula to calculate CTR is
| | | |
| --- | --- | --- |
| Impressions | Clicks | CTR |
| No. of Impressions | No. of Clicks | Clicks / Impressions |

Coming back again to cost,
You can bid on keywords with any amount irrespective of min or max bid criteria. However, Google suggests the highest bid on the same keyword from your competitor to help you bid fairly.

Google AdWords (PPC) cost the UK
Google will charge on a threshold basis or on some days, whichever comes first, e.g., in our case threshold is £500, and automatic payment is 30 days whichever comes first.

What should I pay to set up a PPC CAMPAIGN?
Depends on the campaign structure, with a high volume of keywords means PPC campaign setup takes considerable time & effort,
Though if you are a small business, we suggest you to start exploring with a short campaign consisting of targeted keywords within a range of 25-40 or below 50
PPC consultants may charge you a fixed fee of £300 to £350 per month for pay per click management excluding the ad spent,

PPC Cost £300-£350 per month includes
Campaign setup, a considerable amount of time is required to set up a well-structured & optimised campaign with a small set of targeted keywords, adding negative keywords, ads copy, analytics tracking, location targeting, bid adjustments,
The PPC fees are excluding the ad spent which you will pay directly via credit card.
PPC consultants may consider around 200-250 keywords depending on your ad spending, though we suggest you to start with a limited set of keywords say 25-40 as mentioned above and keep the spending within your budget,
Regular monitoring of campaign, keyword adjustment, bid simulation
Reporting via analytics for traffic analysis and ad spent and click management via Google AdWords
Let's start step by step to create and set up a Google PPC
Google Adwords Account Setup
Make sure you need a Google account before signing up, you should create one if you do not haveL as in next screen Google will ask you to sign in your account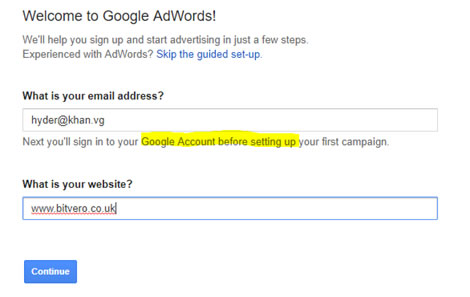 Next Google AdWords will ask you to set up your budget, target location, network, keywords, and bid, text ads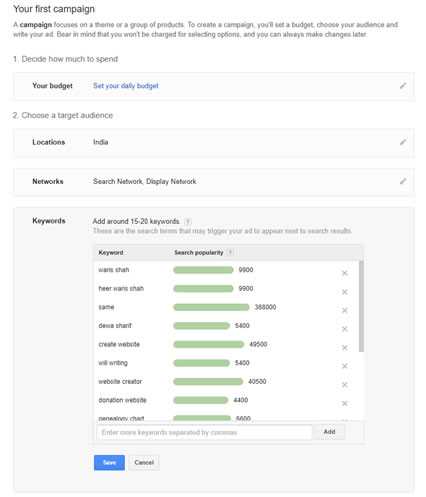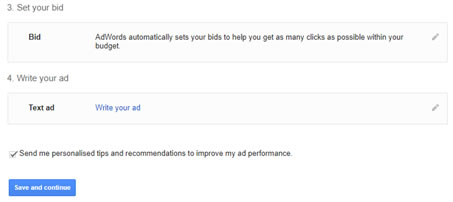 You have to make your selections carefully but don't worry you can change your bid, keywords, location and every other thing later on as well if you wish,
Here are few tips on
How to select keywords in a PPC Campaign?
Use long tail keywords, g., if you are selling pens in the UK, do not use the keyword pens, see which category of pens you are making if it is a ball or ink pen and if you are a manufacturer or whole seller or an exporter or a local shop owner? Say if you manufacture pens Belfast, then probably your keyword would be 'ball pen manufacturer Belfast.'
How to select your location?
Don't select broad locations like the whole of UKL it will not be wise as your budget will drain quickly, or you may require a considerable budget instead, try to select a smaller area in which you think your keywords serve well
What is network and which one is best for me?
Go for search network if you are starting a new campaign, search network displays text ads top / right side in Google searches while display network displays different type of banners ads in a vast network of websites Google owns, we recommend you to explore display network once you understood search network nicely by using it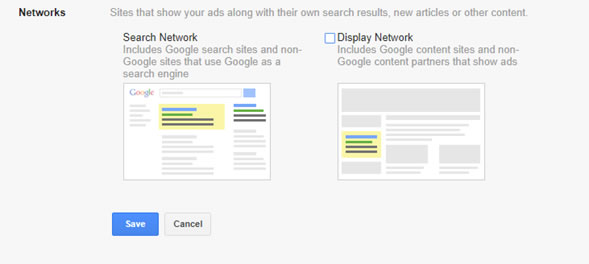 How should I set my bidding in PPC
Google AdWords gives you two options here as per below. However we recommend to start with the 1st option and allow Google AdWords to handle the bidding automatically, you can always change this later at any time.

How to write the text ad?
As explained above, make the best use of the section and tell about your product or service, make sure to include USP's (Unique selling points),
The process of setting up a Google AdWords can jeopardize the whole campaign in the absence of a targeted landing page
A highly relevant and with a landing page will help you achieve a higher click-through rate, and your quality score depends on it,
Google AdWords System determines each keyword with a quality rating and clicks through rate is the critical element in that calculation
Before you start writing your text ads, consider which audience you should wish to appeal
And make sure to map a highly targeted landing page which ensures to display service or product information in a single click,
e.g., if a customer is searching for a keyword 'SEO Packages' and your landing page is showing all details about SEO
And missing package details, will not only result in a bounce when a potential lead closes the browser window and at the same time adversely affect the click-through rate decreasing your quality score;
And money spent in the form a bid is gone.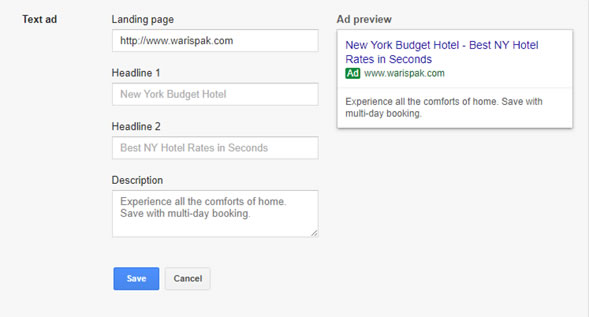 Campaigns & Ad Groups
Segment the campaign with a broader perspective and higher level ideas, and then funnel Ad Groups with a clear bifurcation to help you achieve a clean structure and better visibility concerning placement of keywords in respective ad groups,
You can base your campaign selection on
Products or services you offer
Keywords
Geographical area
Brand name
An optimized campaign ensures ad groups are relevant to campaigns, e.g.
Campaign: SEO UK
Ad Group: SEO London
Keyword: SEO Consultant London
Landing page: https://www.bitvero.co.uk/search-engine-optimisation-consultant
Payment information
Now it's time to put payment information along with your name address and first contact details, business type, tax info, etc.
Credit or debit card information is mandatory to proceed further,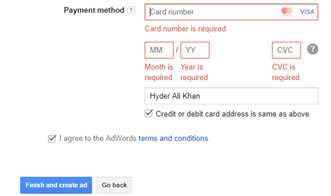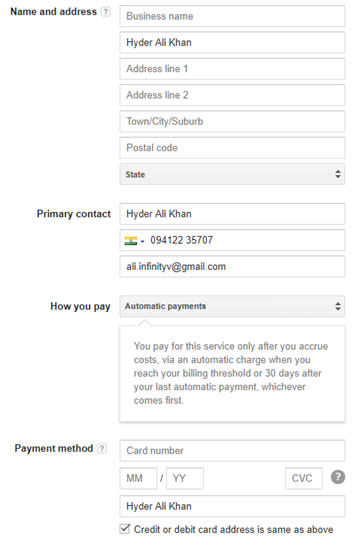 Step 3
You will get this below screen by now with 1 active campaign which includes the selected keywords, all you have to do is monitor your campaign for next few days and keep an eye on how many impression you are getting on each ad and how many clicks you have received and what is the cost….
Analyzing will help you understand your audience behavior to proceed further with the creation of more campaigns also,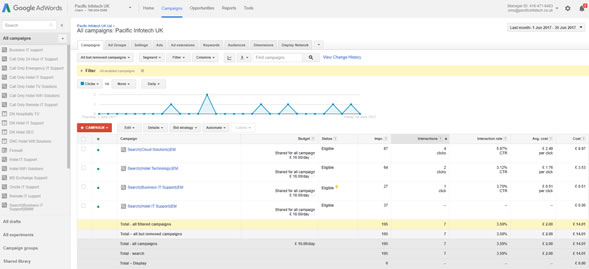 Above are the necessary steps of setting up a Pay per Click campaign
You might be interested in learning high and low volume search keyword

To summarize
Try to setup Google AdWords and start your first campaign which you can stop/resume any time you may wish and keep your credit card handy to launch the campaign,
Should you want to hire a PPC management service, make sure to start with a small set of keywords with an initial ad spend of £500 a month.

Over to you
Keep me posted with your experience on your first PPC campaign setup and management or tweet us @Bitvero for questions or post your comments below
On top of all be patient and take care.
---