SEO for small business in 2018 – 4 essential tips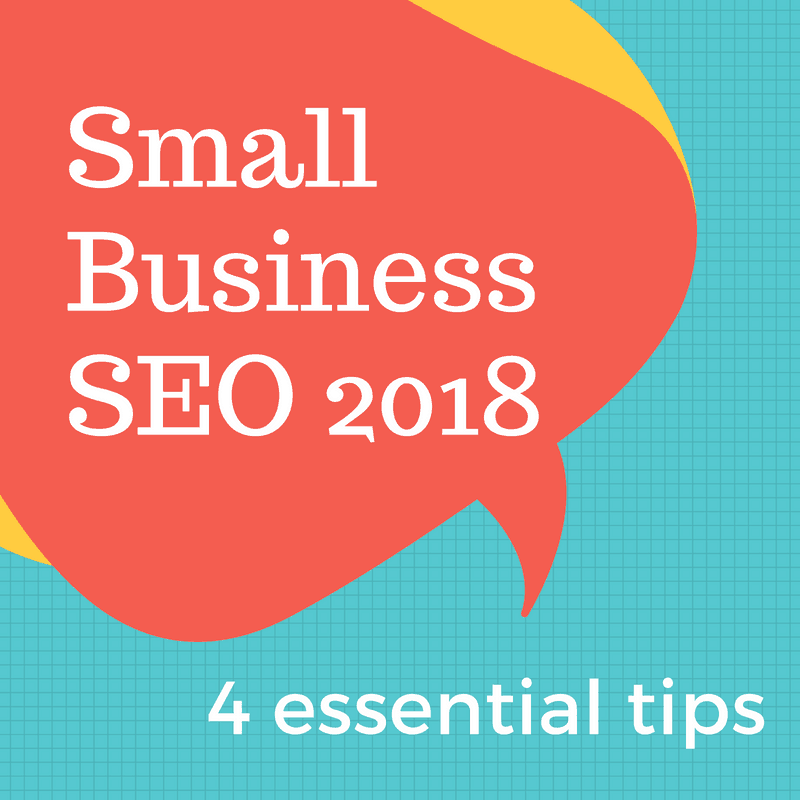 The 4 step strategy we will discuss next are highly critical for SEO if you are a small business owner, or if you are already running a successful business and keep SEO at hand than pondering over these steps help you make a winning strategy
Internet marketing is highly specialized and technical and includes primary to advance measures to manage a successful SEO campaign
However, this 4 step strategy will certainly help small business owners in understanding the direction and play the SEO game wisely.
The initial spark will give you enough momentum to roll or should I say 'Rock N Roll.'
But the game depends upon your understanding of SEO and each move will help you lay the foundation of a successful SEO strategy to win the SEO game,
Before I take you further in-depth, I would like to tell that you are standing at a point where you will find two roads going in different directions
First one
Spare your quality time and start learning SEO and if you have decided and wished to begin with this step then congratulations you are on the right direction, start your journey; and we suggest you go through the level by step guide to SEO by Search Engine Land
The most trusted resource for SEO and search marketing trends
Second One
However, if you may think the time is the constraint for you to spare, then we suggest you go ahead and the below read will benefit you, I promise,
At this point, I will divide the activities keeping in mind the technical score which will determine the complexity and level required in the planning and execution of each element in SEO.
We have divided the chart into four significant heads,
Search engine optimization
Onsite Search engine optimization
Offsite search engine optimization
Social media optimization
Social media optimization
Social media marketing
Content Marketing
Paid Campaigns
Social media campaign
Pay per click campaign
The chart is in four major sections, and seven significant heads, e.g., the first part search engine optimization consists of 14 sub-heads, and each sub-head shows its complexity and level,
The high complexity denotes Level 3, which means a reasonable level of technical learning is required to understand and execute the sub-head,
E.g., keyword research,
You can open a keyword research tool by Google and start learning, and a 60 minutes session will give you a fair idea, but not enough to plan an SEO strategy based on the keyword selection, why?
If the volume searches of keywords will give you excitement and if your selection will base on sheer high volume searches than you are in a wrong direction
E.g., if your client is manufacturing 'Red Ball Pen' and the selection of keywords are a high volume search word like 'Pen' or 'Ball Pen' then achieving SERP (search engine ranking positions) will be a challenge and a strong SEO strategy should be in place to achieve the same,
In the below snip, you can see the Avg. Monthly volume searches of the keyword 'Pen' is between 10,000 to 100,000 which is quite competitive when it comes to achieving the organic searches,

Low and high volume search keywords and their selection is technical you wish to learn in depth,
You can also download the SEO Factors with Complexity Bifurcation (PDF)
Now you can imagine the level of effort required to achieve SERP (search engine ranking positions) of each keyword, more than 50 different activities involved in digital marketing
Likewise, you can see the medium and low-level complexity tasks, e.g., URL re-writing and head optimization
Writing compelling headings for your web assets is a challenge, perhaps a 15 minute read from Search Engine Land on title tag optimization will give you a fair idea on the subject,
I can explain each topic in-depth, perhaps the promise in the article is to describe the highly targeted 4 activities helps you to get the SEO ball rolling with a momentum
Here are the four practically significant SEO steps in 2018 that every small business should consider for SEO success:
And should you wish your website will thrive the way you ever hoped and keywords to fetch you the traffic you have always desired then keep in mind the above chart, either try to understand the SEO topics
Or you may consider splitting tasks between yourself and your Digital Marketing Consultant, and hopefully, this may prove beneficial for your small business SEO.
We have for you the good news that you don't need to have a huge budget and resources in place if you're desperate to get your website in front of your potential customers.
Let's have a look on the 4 step strategy we had discussed above,
DIY SEO for small business 2018
Foundation stone starts with quality content
In my personal opinion, you should spare your time. Instead, I would say 'Quality Time' in writing quality content, and this will undoubtedly prove fruitful in not only achieving keyword rankings but also provides you a higher engagement level with your visitors, increasing Avg. Session duration which is entirely necessary to build a trust level with search bot & visitors both,
I am sure you will ask next when is best to spare quality time, Morning or evening?
As per Neil Patel, morning is the best time to start writing content and don't forget to snooze emails, Facebook, and other social distractions,
Content writing is challenging and includes essential steps of research, planning, creation, strategy; these are significant ingredients of content necessary for epic storytelling.
Niche focus Strategy – A winning SEO shot
If you are a small business and want to compete with well-established competitors than niche focus strategy will help you for Long-term SEO success in 2018,
Because search engine optimization is no longer about the sheer volume of keywords and web pages in your website,
And it doesn't matter since how long your competitors owned the credibility of your desired keywords,
If you will make your aim to be a niche focus than you won't be required to have a wide range of keywords and its promising webpages in place,
Meaning you can quickly formulate your SEO strategies and portray your small business as a niche in the market
And you will be able to achieve much higher visibility in short span, in fewer efforts and with the handful of resources.
For example
You're into home automation business, and you're planning to target two different technologies simultaneously
Home automation and home entertainment systems to attract tons of customers to the website,
So despite going with two different technologies, plan your campaign to any one of them whichever you think can be beneficial to earn your business.
If you think the area of expertise lies in home entertainment systems, then choose keywords related to this technology such as 'Audiovisual installation,' Home cinema installation, etc.
And optimize your website with your chosen keywords and pour all your efforts and available resources to get an edge over your rival businesses and I'm sure this SEO strategy will help you to win the game in short span.
Search engine journal has explained the niche criteria impacting the SEO strategy quite well
Tom Demers explains in Search engine Journal:
What about the specific niche? Should your niche affect your SEO strategy?
The short answer is: absolutely, yes.
Use of long tail keywords
Long tail keywords sometimes can be a turn-around for your business,
And as per the best SEO practices, long tail keywords can add a charm to your overall SEO campaign to earn you a click through, and trade leads in the short span,
And they're not that as competitive as short tail keywords, so using long tail keywords in the campaign can quickly boost your website performance in Google search results in a matter of weeks or months or so.
Neil Patel is best explaining the importance of using the Long tail keywords in your web assets
What long-tail keywords will do is solidify your CRO funnel through organic search traffic.
Neil Patel
As per Neil Patel
Long-tail keywords are how people search the Internet
The entire point of Google's search business is to present users with the right information based on their searches
You can't afford to miss this if 70% of all web search queries are the long tail, isn't it
As per Neil Patel
Hummingbird adjusted search algorithms to match exact phrasing more often and to deepen their understanding of context.
Primarily, Google is focused on long-tail keywords and strengthening their search results
Long tail keywords are supportive to short tail and will help you rank higher for your quick keyword combinations,
If your product is appearing in Google searches is excellent but to gain customer trust you must provide exhaustive information and your integrated blog is the perfect medium to explain your product and services in-depth, and through this procedure, you can increase your conversion rate on the website for your small business,
A survey from Hubspot found 65% companies are worried about generating traffic and leads set aside the conversion rate. However, this can be addressed by an effective content marketing strategy in place
Moving forward voice search is the future of search marketing, and long tail keywords play a vital role in voice search queries,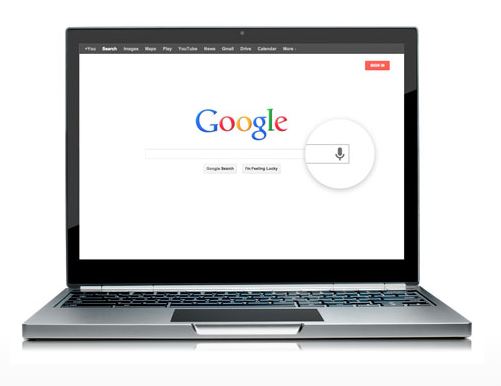 And now with Google assistance voice search will change the way we have learned to interact with Google by far,
Google says 'Google Assistance' – your own personal Google, well that speaks a lot on how voice searches will influence the criteria of search in future,

Long tail keywords provide the value proposition to your small business visitors, the basis of all searches and precisely what search engines like Google, Bing, Yahoo look for and primarily update their search algorithms,
If you check Google analytics tools closely again, you will observe long tail keywords are driving more search traffic than short tail or the ones you might have selected,
The time now to start building your long tail keyword strategy irrespective of volume searches, keep in mind the value proposition to your visitor and search engines will take care of the rest,
Consistency in NAP
NAP – Name, Address and Phone Number
Small business owners, NAP Consistency, is one of the most important ranking factors to rank their business higher in local place listing.
In fact, getting your business listed on all relevant business directories with the same NAP information to improve the local citation strength.
And as confirmed by Moz on Why NAP Listing Accuracy Is Important I cannot stress this further; and should you wish to make improvements in your local business which will undoubtedly attract you a good traffic score,
You can also use this NAP spreadsheet provided by Moz for multiple locations,
Moz Blog
Whether you manage a single local listing or hundreds, the consistency of your NAP data across the web can either help grow your business or serve as a barrier to customer discovery
Consider checking your NAP now; the tools will help you track local citations, spot NAP issues, and find new ones as well,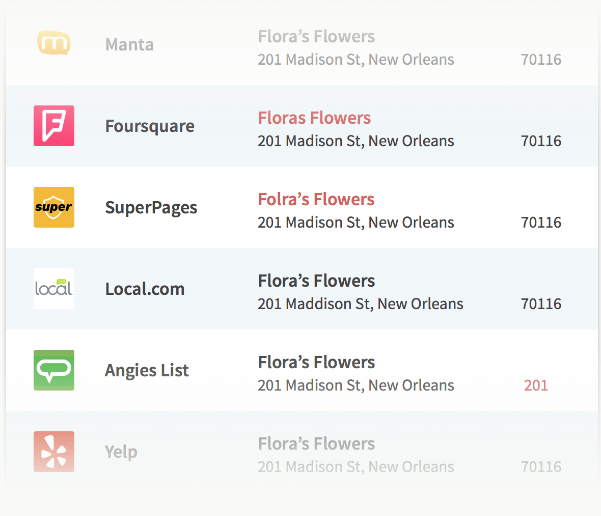 Be active on Social Media
With plenty of social channels available, you might wonder which one to start and how to find the potential audience for your product or service,
And if your social presence speaks the above, then you are in the wrong direction?
Social media is basically for socializing which should be the prime criteria to join any social network, make interactions, connect emotionally, and engage with others, help your community with the product and services you offer by providing free tools, seminars, webinars, e-books, free guides,
You can note, small to big business maintain and respond to customer queries in the social environment due to ever growing communities and very high engagement level,
If you are already an active social player, that's excellent but don't forget the social media optimization process without which social media marketing proves worthless.
Neil Says
Since opening up for everyone to sign up on September 26, 2006, Facebook just crossed 2 billion monthly active users as of quarter two of 2017.
Even though the world population has grown to over 7.5 billion, by now, one out of every four humans on this planet has a Facebook account.<
The stats from Neil Patel will surely surprise you; and the statistics tell us, one out of every four humans on this planet has a Facebook account.
We agree with Neil when he says:
In some ways, Facebook is a country of its own. It's larger than any other country in the world, and one could even argue that it's more connected
And people are not only using the social platforms day in and day out and highly engaged with them.
The chart will explain the usage of each platform.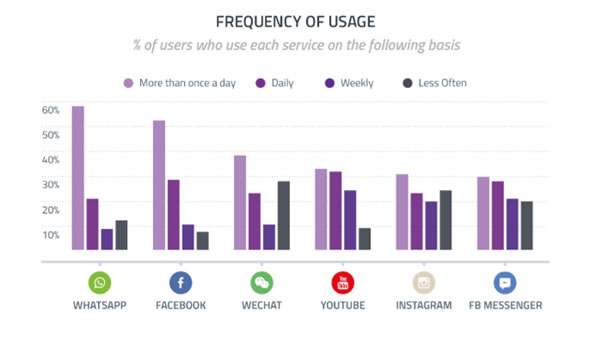 Image source: Neil Patel
We have a list of primary & secondary social platforms,
Primary social platforms
Facebook
Twitter
LinkedIn
Google Plus
Pinterest
Instagram
YouTube
Secondary social platforms
Tumblr
Flickr
Reddit
Foursquare
Myspace
Stumble Upon
Delicious
Maintaining different social channels at the same time for a brand is technical when it organically comes to engaging audience,
It is better not to keep a social channel instead of maintaining it in a half-hazard manner,
And exceptional as well to support few channels, and engage your audience
If you are thinking to maintain a balance between SEO / Social Media, beware; and according to the industry's expert 'Social is the new SEO,'
But surely not a replacement of one to another, though both are significantly beneficial for your small business, so where the difference is?
Your efforts on social media platforms can easily reap you 10x more indirect results along with many benefits:
More visibility of your products and services.
Build an emotional connection with a potential audience
More Brand awareness.
Better search engine ranking of your brand.
Higher trust level both in the eyes of search engines bots and potential audience.
Quickly build the maximum outreach to get the right audience
Thought of Leadership on the subject
Easier and broader content distribution to 1000's of a potential audience
Increased business networking
On the other hand, SEO is more towards a direct result, where your potential audience can directly engage with your products or services, and they can make a quick decision whether to explore more about your offering or a jump-off from the website. So, the visitor's journey from your SEO efforts can be short, and you can get the results in no time.
Note: Organic SEO efforts can help your business to harvest its benefits for a longer duration until you keep going well both for search engines bots and website visitors.
I suggest you to start learning affordable SEO for the benefit of your small business and this is the best choice, why?
SEO learning will help you to achieve the best of both worlds,
Because the moment you plan to take SEO help for your small business and start your SEO discussion you will quickly understand the SEO logic working behind and that will give you the full confidence, and you will enjoy your SEO discussion
The choice of learning affordable SEO will help you finalize the cost factor even if you decide to outsource SEO
If you are willing to outsource SEO than I am sure next, you will open google.co.uk and start typing SEO package for small business
If yes!
Perhaps you better check and ask for yourself
Why do Search Engine Marketers Sell?
Search Engine Optimisation as a package deal at all?
And I am sure this will prove helpful for your small business SEO
Bitvero
In its most basic sense, the term 'SEO package' is one used in the online marketing industry to describe a bundle of different SEO (Search Engine Optimisation) services which are sold to clients, usually for an upfront, recurring fee
Over to you
Socializing is the new SEO or the better part of it, and if you agree keep posting the engaging stuff for your community and the community will return favor regarding higher mentions (like, Share, tweet, Pins, Comment).
---